RHI inquiry: Civil servant 'didn't really understand what was going on'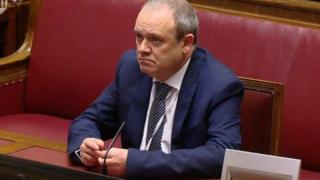 There was no effective monitoring of the Renewable Heat Incentive (RHI) scheme as it began to hit serious problems, the public inquiry has heard.
The civil servant who looked after the day-to-day running of the scheme in 2014 "didn't really understand" what was going on.
Seamus Hughes was appearing at the inquiry into the flawed energy scheme.
He said he had not been told to monitor things like technology types, boiler run times and sizes.
Mr Hughes said he was not doing it and that his main concern was logging the number of applications coming in.
Inquiry counsel Joseph Aiken said that meant important indicators of problems were missed.
"The matters that we now know would have been indicators of people being overcompensated, of potentially exposing the budget, of potentially people gaming the system, none of these matters were being monitored by you or anyone else working with you until the problem really identified itself to you in 2015," he said.
Mr Hughes agreed.
He had taken over responsibility for daily management of the scheme in June 2014.
It was one of a number of key changes in the Department of Enterprise Trade and Investment (Deti), which happened around the same time and involved staff linked to the scheme.
'Close to zero'
Mr Hughes told the inquiry that sort of personnel change was "unprecedented" in his experience and contributed to knowledge gaps.
It also emerged that the first time he had seen the "risk register" for the non-domestic RHI scheme was at the inquiry on Thursday.
He accepted that his knowledge of energy policy was "close to zero".
Mr Aiken put it to Mr Hughes that he "didn't really understand what was going on".
He had been looking for people to get into the scheme.
"There was no bad faith in that," Mr Aiken said.
"You weren't doing that to waste public money, you were doing that because you thought that's what everybody needed and wanted to happen."
Mr Hughes also said that he did not know that approval for the scheme from the Department of Finance and Personnel was due to run out and would need to be reapplied for in 2015.
The inquiry later heard about Mr Hughes' interaction with a businesswoman who had consistently raised concerns about the scheme.
'Stark email'
Jeanette O'Hagan, sometimes referred to as a whistleblower, had emailed the department again in March 2015, her third contact with it.
She asked whether tiered tariffs were to be introduced to curb what she said was abuse of the scheme.
Mr Hughes did not realise that she had been involved in prior communication with officials on the subject.
He replied to say that the tariff was not being amended as part of proposed changes to the scheme, but it was something that might be introduced later as a form of cost control.
Mr Aiken said Ms O'Hagan had replied the same day with a "stark email".
It questioned whether it was right that energy should be wasted for profit and alleged that many firms were doing it.
'Naivety'
Mr Hughes did not reply to the email and could not remember why he had not.
Mr Aiken said it was more than a "missed opportunity".
He said she had clearly articulated that the "naivety" she had been met with by departmental officials, who believed firms would not abuse the system, was not acceptable.
Ms O'Hagan's email had flagged up a potential risk to the scheme, but it had not prompted anyone to take down the "risk register" and go through it, he said.