Co-opting council members 'is cheating voters'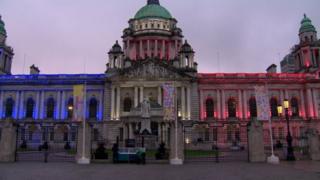 Nearly one in eight Northern Ireland councillors is unelected - a number likely to rise before the next local government poll.
There are 462 councillors spread across 11 council areas.
Legislation introduced in 2010 allowed parties to replace councillors and MLAs with individuals of their choosing - known as co-opting.
At present 59 are unelected having been appointed by their parties after an elected representative stepped down.
Most of these changes came after the introduction of "double jobbing" legislation, which means politicians cannot sit in two legislatures at the same time.
In total, 31 of the changes since May 2014 came as a result of councillors moving on to higher positions in the Assembly, Westminster or Irish Senate.
Death, illness and changes in personal circumstances have also seen representatives replaced, while one councillor was barred as a result of a conviction.
'Not moral, not right'
However, former Newry city councillor Brendan Curran says the legislation is being abused for electoral purposes.
"There is a corruption of it, and what I would call 'vote laundering' goes on where people vote for one thing and get another thing," he said.
"It doesn't matter about the legislation. It's not moral and it's not right."
He added that parties install councillors ahead of elections so that they will be more familiar to voters when polling day comes around.
"It's not what people spend their time to go out on a cold, wet Thursday and vote for somebody that they would like to see elected and then for them to be subverted for somebody they probably don't even want," he said.
By-election expense
The co-option system was introduced because holding a by-election can change the party political balance within a multi-member electoral area.
That would happen if a councillor belonging to a smaller party stepped down and a subsequent by-election was won by the dominant party in that area.
The system also avoids the expense of by-elections.
All of the main parties have co-opted since the 2014 election.
Sinn Féin has changed the most representatives (18) but Alliance has changed the greatest percentage, at 18.75%.
Since the last election in 2014, co-options have taken place in every council chamber - from two in Mid Ulster; Mid and East Antrim; and Fermanagh and Omagh Councils to 18 in Belfast, eight in Newry, Mourne and Down and six in Armagh City, Banbridge and Craigavon.
The next council elections are due to be held in May 2019.