Sixty jobs under threat at Maplin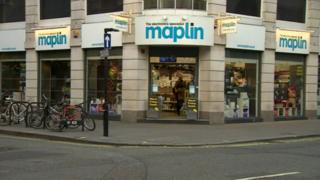 The collapse of the electrical retailer Maplin has put 60 jobs under threat in Northern Ireland.
Five stores could face closure if administrators fail to find a buyer for the company.
The news follows the announcement that Toys R Us has also gone into administration.
The warehouse-style retailer has four stores in Northern Ireland - Belfast city centre, Newtownabbey, Sprucefield shopping centre and one in Londonderry.
Staff continue to be paid
Maplin's five stores are in Coleraine, Derry, Antrim and two in Belfast, at Connswater and Boucher.
Attempts had been made to find buyers for the two well-known retailers but those attempts failed.
An administrator for Maplin, Zelf Hussain, said UK trading conditions had proven difficult but business would continue.
"Our initial focus as administrators will be to engage with parties who may be interested in acquiring all or part of the company.
We will continue to trade the business as normal whilst a buyer is sought.
Staff have been paid their February wages and will continue to be paid for future work while the company is in administration."
Responding to the news, Retail NI Chief Executive Glyn Roberts said:
"With both Maplin and Toys R Us going into administration it is a sad day for the retail sector.
The economic impact of this is much wider than just the nine stores. There will also be the reduction in footfall for neighbouring retailers which has to be factored in"
Both Maplin and Toys R Us faced the ever growing challenge of online retail and to some degree their product range was facing further competition from the big UK supermarkets and discounters stocking their product ranges at cheaper prices"
Falling profits
Maplin had been in talks with Edinburgh Woollen Mill, the clothing company that owns Peacocks, Country Casuals and several other retailers, over a possible sale, according to Sky News.
The move came after insurers cut credit cover last year because of Maplin's falling profits.
Toys R Us - whose US owner filed for bankruptcy protection last September - is facing an imminent deadline for a £15m VAT bill which it will not be able to pay without selling the business.
It had managed to stave off collapse in December by agreeing a rescue plan to allow it to restructure its operations, including the closure of at least 26 stores planned for this Spring.
But with poor sales continuing into the new year and the VAT bill looming, the only route left for the firm to continue trading was to find a buyer which is now understood to be unlikely.