Storm Emma: What you need to know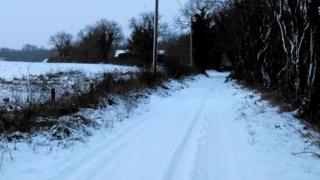 After the 'Beast from the East', Storm Emma is bringing more blizzards, biting winds and further travel disruption.
The most important number to know is 999 for the emergency services. The PSNI non-emergency number is 101.
For parents and pupils, the crucial thing to know is whether school is open or not.
BBC News NI has a dedicated page detailing school closures, you can find the link here.
The NI Direct government services website has set up a page to help people deal with the snow and ice.
If you want to report an issue with ice or snow, you can do so online at this link.
Some hospital clinics have been cancelled. More information on the Dept of Health twitter page.
Northern Ireland's airports will be posting flight information on their websites:
Flight information for Dublin airport in available here.
There are also a number of Twitter accounts which could be useful.
The latest travel news can be found on the BBC NI Travel account with up to date weather reports to be found on BBC NI Weather.
Emergency numbers
Emergency services - 999 or 112
Northern Ireland Electricity Networks - 03457 643 643
NI Gas Emergency Service - 0800 002 001
Northern Ireland Water Waterline - 03457 440 088
Flooding Incident Line - 0300 2000 100
Housing Executive - 03448 920 901
Report a fallen tree or blocked road - 0300 200 7891
Alternatively you can access Translink's Twitter account directly here and NI Railways here.
Translink can be contacted by phone on 028 90 66 66 30.
For road updates check Trafficwatch.
The Irish government's National Emergency Coordination Group have published a list of links and numbers detailing the advice of various departments and agencies in relation to the snow.