Weather disrupts transport and schools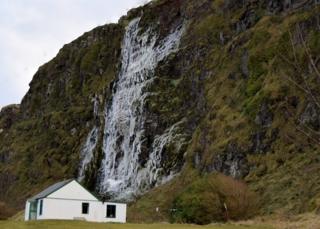 Snow is causing travel disruption in parts of Northern Ireland, with the cancellation of some flights and buses.
A number of schools will be closed on Thursday, with the south Down area particularly badly affected.
Passengers travelling to the Republic of Ireland and Scotland, where the weather is more severe, have been worst hit by cancellations.
Cross-border buses between Belfast and Dublin are not running and there is some disruption to Belfast Metro buses.
School closures in Northern Ireland
Heavy snow showers are forecast for some areas and a Met Office yellow weather warning is in force.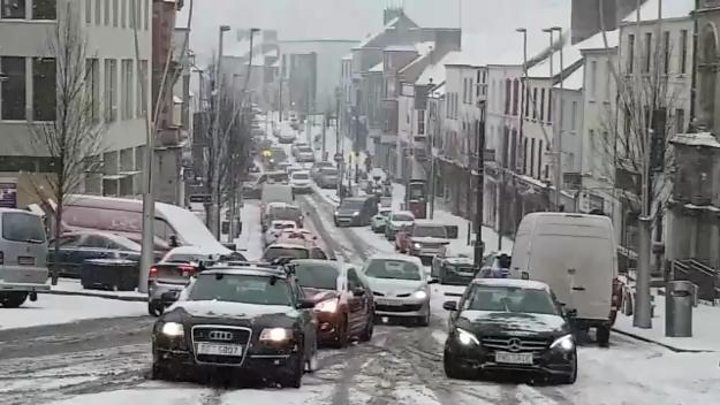 The Roads Service has said windy weather on Thursday morning may cause drifting of lying snow.
"Road users should allow more time for their journeys and should exercise caution when travelling," they said.
'Stay indoors'
In the Republic of Ireland, a Status Red alert issued by Irish weather service Met Éireann has been extended for all counties until 15:00 local time on Friday.
That is the highest level of warning - meaning "to take action to protect" yourselves or your property.
Blizzard conditions have been forecast, and the National Emergency Coordination Committee asked the public to take shelter indoors from 16:00 onwards.
Taoiseach (Irish Prime Minister) Leo Varadkar appealed for the warnings to be heeded.
Cross-border cancellations
Translink has said bus services X1 and X2 between Belfast and Dublin have been cancelled for the rest of Wednesday.
There will also be no further Goldline X3 or X4 services operating in either direction from Londonderry or Dublin.
In Belfast, there is some disruption to Metro bus services, and passengers should check the website for the latest updates.
Translink has also advised that there will be disruption for cross-border rail passengers on Thursday, with no Enterprise services operating from Belfast after 12:35 GMT and none from Dublin after 13:20.
'Treacherous conditions'
At Belfast International airport, all Easyjet flights to and from Glasgow and Edinburgh have been cancelled for the rest of Wednesday.
At George Best City Airport, Flybe has also cancelled all its Scottish flights.
In County Tyrone, snow has caused difficult driving conditions in the centre of Omagh.
The police have warned of "treacherous conditions" on the Derryvale Road, Coalisland, and Quaterlands Road in Lisburn.
BBC News NI's traffic and travel service reported that vehicles were "getting stuck" on the Killynure Road West in Carryduff, County Down.
The severe weather has also led to the postponement of Ulster's Rugby's Pro14 game against Glasgow.
'Check on neighbours'
At Stormont, the Executive Office has confirmed that staff from government departments, councils, emergency services and utility companies have put arrangements in place to deal with the difficult weather conditions.
In a statement, the office urged the public to "be good neighbours and check in on the elderly or vulnerable relatives" as sub-zero temperatures are forecast for the rest of the week.
It has also published advice for farmers, motorists and householders on how to protect themselves and their property during the cold snap.
In the Republic of Ireland, public transport has been severely affected by the adverse conditions, according to broadcaster RTÉ.
Schools closed
Met Office warnings outline the likely impact of weather, whereas Met Éireann issues its alerts when forecasted weather meets certain risk levels.
Dublin Bus has notified passengers that all of its services on Thursday have been cancelled.
Dublin's tram service and train services, the Luas and the DART, plan to run only limited services on Thursday.
The decision to curtail public transport was made following a meeting of the National Emergency Coordination Committee.
RTÉ is also reporting that all schools in Munster and Leinster will be closed on Thursday and Friday.
Gardaí (Irish police) advised motorists and all road users to "use caution" after overnight snowfall led to accumulations of between five and 10cm.
They said snowfall up to midday on Thursday may reach 25cm (10 inches).
Dublin Airport said a number of flights had been cancelled as it suspended runway and taxiway operations earlier.
It has since resumed operations after clearing snow off the runway but advised passengers to check with their airline for the latest information.
Ryanair cancelled all of its flights to and from the airport and said all affected customers would be notified of their options by email or SMS text message.
By Wednesday afternoon, Aer Lingus had cancelled a "very significant portion" of its short-haul flight schedule out of Dublin Airport, according to a spokesman for the airline.
He said some short-haul flights are still arriving at the airport but advised passengers to check the airline's website to find out if their flight is among those affected.
The Irish Health Service Executive has said that the weather conditions are having an impact on its services.
All government offices and agencies in Munster and Leinster, which are "not involved in provision of essential services" will be closed on Thursday and Friday.
The weather warning came into force at 05:00 local time on Wednesday and remains in place until noon on Thursday for counties Louth, Kildare, Dublin, Wicklow, and Meath.
A system, named as Storm Emma by the Portuguese weather service, will then move north on Thursday night bringing a lot of moisture.
That will meet the cold air sitting over Ireland and turn to snow quite widely with further disruption expected into the weekend as a result.