Carl Frampton accuses McGuigan of 'abusing his trust'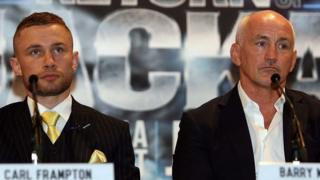 The boxer Carl Frampton has accused his former manager Barry McGuigan of abusing his trust and making financial gain at his expense.
The claims were made during the second day of a preliminary hearing into where a future legal action will take place.
The 30-year-old is suing Mr McGuigan and his wife Sandra who run Cyclone Promotions.
The McGuigans deny the allegations and are counter-suing Mr Frampton for wrongful early breach of contract.
The former world champion split with Cyclone Promotions last summer.
Mr Frampton, originally from Tiger's Bay in Belfast, is now working with promoter Frank Warren.
During Tuesday's hearing, evidence was read from Mr Frampton's sworn statement saying he first became suspicious about the McGuigans in the run up to his 2016 fight against Scott Quigg in Manchester.
Mr Frampton alleged that he and his wife Christine noticed the "McGuigan family and their wives and girlfriends" appeared to be using the business account for general expenses.
He said he still had not been paid for the fight some months after it took place and when he queried it he was "fobbed off". Mr Frampton said his opponent was paid some months before him.
'Tax inspectors'
Mr Frampton also alleges the McGuigans "took advantage" of his parents by getting them to lodge "significant sums of money" from ticket sales into Barry McGuigan's personal bank account.
The statement read to the court said: 'I expected him (Barry McGuigan) to safeguard my interests but I believe he abused that trust and was assisted by Sandra McGuigan in this regard.
"I believe they made undisclosed financial gain."
The court was told that "the final straw" came in 2017 when tax inspectors called at Mr Frampton's home with a bill for £397,000 relating to unpaid VAT by NI Cyclone Promotions.
His barrister told the court it was then that Mr Frampton resigned as a director of the company and appointed an accountant independent of the McGuigans.
The hearing continues