Hard border will happen, says Lamy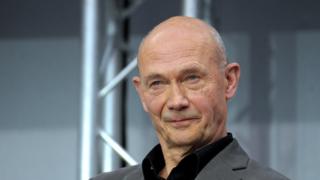 The former head of the World Trade Organisation (WTO) believes a hard border will happen post-Brexit.
Pascal Lamy thinks "the choice" is whether it would be through the island of Ireland or down the Irish Sea.
He was giving evidence to the Commons Brexit Committee.
After Brexit, the government is committed to avoiding physical checks between Northern Ireland and the Republic.
Mr Lamy told MPs: "The moment the UK exits the (EU) Customs Union there has to be a border. The choice is whether it is north-south or east-west.
There is a sea in between (Northern Ireland and Great Britain) but I recognise this is politically extremely explosive."
He has previously said that leaving the EU with no deal would be extremely bad for both parties.
The Democratic Unionist Party (DUP) has made clear if the Irish Sea became a de facto trade border it would withdraw its support for the Conservative government.
Speaking on the Daily Politics Show DUP MP Sammy Wilson said that on the basis of what has been leaked or discussed so far, the withdrawal legal text would be "unacceptable to the DUP & probably unacceptable to the British government".
The DUP's ten MPs are keeping Theresa May in power as part of a confidence and supply deal.