NI weekly paper review: Fatal fire, hostel fall and pup's rescue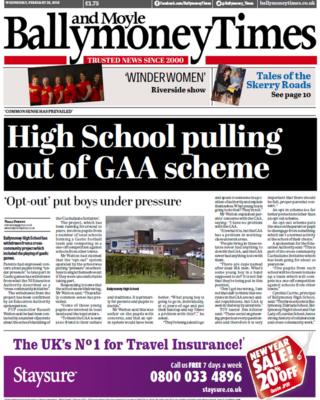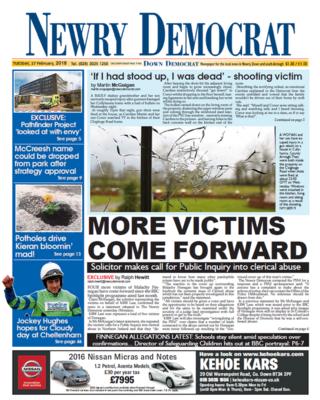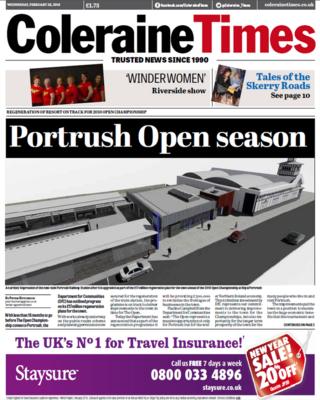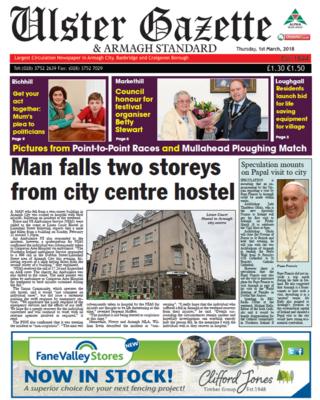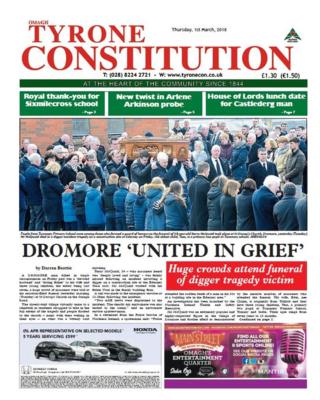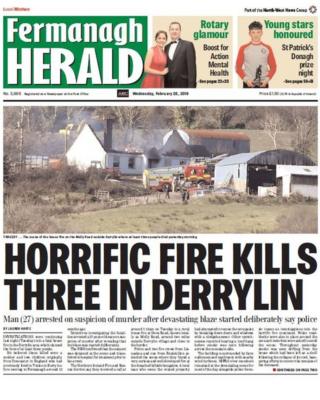 A fatal house fire, a fall from a hostel, and a pup's recovery after being thrown from a van are among the stories making the headlines in Northern Ireland's weekly newspapers.
The fall from the second storey of a hostel in Armagh City leads the news in the Ulster Gazette this week.
It reports that a man fell from the building last Sunday (25 February) and was taken to Craigavon Area Hospital with back injuries.
The Simon Community, which operates the Linen Court Hostel, said it would not comment on individual cases, but it did praise the swift response of the emergency services.
"We appreciate the quick response of the emergency services and the efforts of our staff.
"We hope for a speedy recovery for the individual concerned and will continue to work with all the relevant agencies involved as required."
The PSNI said it was treating the incident as "non-suspicious".
Inside the newspaper is a plea from a mother in Richhill to politicians at Stormont to "get your act together".
Kathryn McCready said they should "end the political impasse and focus on what is really important - getting our health services to work".
Ms McCready's son, Matthew Long, 14, has scoliosis and she believes that delays in appointments and treatment for him mean he may end up having to have spinal surgery, which she is keen to avoid.
"I'm not slating the NHS," said Ms McCready.
"I was a nurse for 20 years, I'm proud of the NHS and I believe in it.
"The care Matthew has received at Musgrave Park has been fantastic.
"Our politicians may be aware of the overall picture, they may understand what is going on in the A&E departments, but when it comes down to the individual narrative; what's going on for the individual, they don't appear to understand at all."
The Fermanagh Herald reports on a deadly house fire in Derrylin.
Earlier this week, police said they were working "intensively" to establish the number of people who died.
They said the fire on Tuesday was started deliberately and they were dealing with a "very complex crime scene".
The body of a young child has subsequently been found, bringing the death toll to four.
A 27-year-old man has been arrested. He had been under police guard in hospital but has now been moved into custody.
Elsewhere, the newspaper says there has been a happy ending for a three-month-old pup who was found abandoned at the side of a road in Enniskillen after reportedly being thrown from a van.
The Jack Russell named Obie was discovered by a passer-by last month as he travelled home to Newtownards in County Down. The man took the brown and white pooch to the Perfect Paws Dog Sanctuary in Aughnacloy where he has been nursed back to "full health".
'Rescued pup'
A spokesman for the sanctuary said Obie was "doing great" and had "really come out of his shell".
"He has found his voice and loves his snuggles," they said. "His new family already have a little Jack Russell so hopefully the company of another dog will help build his confidence even more."
The front page of the Tyrone Constitution has the headline 'Dromore united in grief' below an image from the funeral of 34-year-old Barry McQuaid who died in a workplace incident in County Fermanagh last month.
Mr McQuaid was married with three children and lived in Dromore.
He was injured in an incident on a building site at a GAA (Gaelic Athletic Association) club in Ederney.
It is understood he died at the scene, and the Health and Safety Executive for Northern Ireland (HSENI) is investigating.
The newspaper says mourners at Mr McQuaid's funeral at St Davog's Church in Dromore this week heard that he was a "devoted husband" and "doting father" who was "deeply loved and loving".
'Marathon run'
An artist's impression of the new-look Portrush train station dominates the front page of the Coleraine Times.
With less than 18 months to go until the Open Championship comes to the town, the Department for Communities has outlined its plans for a £17m regeneration of the area, including the new station.
Pauline Campbell, from the department, said the Open represented a big opportunity for the area.
"The improvements put the town in a position to maximise the huge economic benefits that this tournament and its legacy will bring."
A different kind of legacy is being created in Portrush by Andy Farrer.
Mr Farrer's partner, Wilma Patton-Brolly took her own life in 2016 and he has pledged to run the London Marathon with an iron in one hand and an ironing board in the other.
He is hoping to raise awareness of mental health issues, and is aiming to create a Guinness World Record.
Speaking about his loss, Mr Farrer said: "The worst thing is that we just didn't see it coming.
"People who take their own lives think that the world will be a better place without them - it isn't."
"More victims come forward" is the headline in the Newry Democrat.
A BBC Spotlight programme investigated the paedophile priest Fr Malachy Finnegan, and asked what the church knew.
Fr Finnegan taught at St Colman's College in Newry and was later its president.
Now a solicitor has confirmed to the Newry Democrat that four more victims have come forward since the programme was aired in February.
Claire McKeegan said her firm now represents five of the priest's victims.
She repeated her calls for a public inquiry into clerical abuse in Northern Ireland and said the victims "demanded to know how many more paedophile priests have yet to be made public".
Since the newspaper was published, Bishop McAreavey has resigned amid controversy over celebrating Mass alongside Fr Finnegan.
Elsewhere in the Newry Democrat is one man's inspired temporary solution to the area's pothole problem.
Kieran Hanna took it upon himself to 'sponsor a pothole' by planting a pansy in one after he damaged his car by hitting it.
The businessman's idea is to draw attention to the damaged part of the road, so that other motorists don't do the same thing.
In Ballymoney there's a claim that boys were put "under pressure" by an opt-out initiative for Gaelic football.
Ballymoney High School have pulled out of the "cross-community" scheme known as the Cuchullains initiative , the Ballymoney and Moyle Times reports.
The newspaper says the project involves pupils from a number of local schools forming a gaelic football team and competing in a one-off competition against schools from other towns.
PUP councillor Russell Watton has welcomed the news and said an opt-in system would have been better.
"What young boy is going to go in, individually, at 15-years-of-age and put their hand up and say 'I have a problem with this?" he added.
Ballymoney High School has said it has a "strong history of cross-community work".