Ulster Rugby mix-up over Blues/Warriors fixture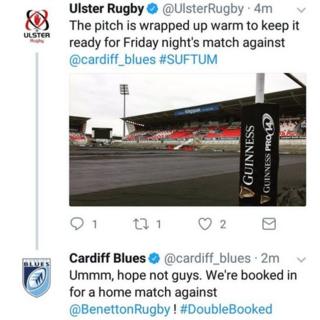 With snow on the way for Northern Ireland, Ulster rugby had a momentary brain freeze as it looked ahead to its next fixture.
The club tweeted a picture of the Kingspan pitch on Monday with the words: "The pitch is wrapped up warm ahead of Friday night's match against @cardiff_blues #SUFTUM."
However, that drew a rather confused response from Cardiff.
"Ummm, hope not guys. We're booked in for a home match against @BenettonRugby! #DoubleBooked," the Blues tweeted in reply.
That prompted a quick correction from Ulster, repeating the original post but substituting Glasgow Warriors for Cardiff.
It wasn't quite quick enough though, as a couple of sharp-eyed fans picked up on the mistake, with one commenting "Second time's a charm" and another - perhaps slightly less kindly - adding "Our Twitter service as prolific as our team".
Ulster Rugby declined to comment on the mix-up.
Let's hope for a home victory on Friday night, a Glasgow win would give us the Blues.