Jeremy Corbyn: Brexit policy will avoid hard border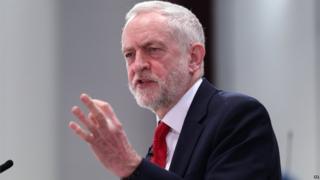 Labour leader Jeremy Corbyn has said that negotiating a new comprehensive UK-EU customs union would help to avoid any need for a hard border in Ireland.
Mr Corbyn's speech marked a significant change in Labour's Brexit policy.
He said Brexit should not be allowed to sow division and no one should be willing to sacrifice the Good Friday Agreement.
Mr Corbyn said it was "the basis for 20 years of relative peace, development and respect for diversity" in NI.
The party leader told his audience in Coventry that the 1998 Agreement "was a great achievement".
He paid tribute to the work done by Tony Blair, Mo Mowlam and all sides in Northern Ireland in securing the deal.
The Labour leader said his party would continue to "support the restoration of the Northern Ireland Assembly and to ensure we maintain the situation of no hard border in Northern Ireland".
He added that any powers currently exercised by the EU should be transferred to "the relevant devolved body after Brexit, so that power is closer to the people".
The DUP's Sammy Wilson described Mr Corbyn's speech as "cheap political opportunism," and that the Labour leader was "hoping to capitalise on the opposition to leaving the EU from the few malcontents in the Conservative Party".
The East Antrim MP said the DUP would continue to give its "full support to the government to oppose this Brexit wrecking policy".
Sinn Féin Brexit spokesperson David Cullinane, who is a member of the Irish parliament, welcomed Mr Corbyn's statement.
"The only way to ensure there is no border checks on the island is for the north to stay in the full customs union, the single market and the EU legal framework," he said.
'Clear and positive'
SDLP leader Colum Eastwood said: "The clear and positive change in policy from our sister party is a welcome development.
"The Labour leader must continue to take a stand against Theresa May and her drift toward a hard Brexit/hard border result in Ireland."
Stephen Farry of Alliance gave Mr Corbyn's speech a cautious welcome.
"For Northern Ireland, a fresh customs union would go a long way to avoiding a hard border in Ireland, but regulatory differences would require some form of physical checks," the North Down MLA said.
'Ideologues'
TUV MLA Jim Allister said: "The threat of a NI/ROI border comes not from the UK but from the ideologues of the EU who make their common external tariffs a binding part of the Europhile 'religion'."