House fire burglary: Man charged with attempted murder in court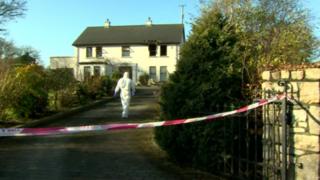 A man accused of tying up a woman and leaving her in a burning house after a burglary in County Down has appeared in court charged with attempted murder.
Niall Lynch, 35, of Mill River Close in Ardglass appeared in court on Monday.
He faces 14 charges in relation to the incident in Clough on the 19 February, as well as a number of other burglaries in County Down and Belfast last week.
Also in court were Alan Stewart, 30, of Knockburn Gardens, Lisburn and Ruairi Padraig Walls, 27, of no fixed abode.
Both Mr Stewart and Mr Walls face a number of burglary-related charges.
The three men, who were arrested in Rathfriland on Friday, had been held in Banbridge ahead of Monday's appearances in Downpatrick Magistrates Court.
Although the three men stood together in the dock, it was clarified that only Mr Lynch was facing charges in relation to arson and attempted murder.
None of the defendants requested bail.
Before the men were led away, the judge said: "Each of the three are being remanded in custody until 22 March to appear via video link to this court."
The incident in Clough occurred on 19 February when masked burglars entered a home on the School Road.
A woman in her 50s was working as a cleaner in the house at the time.
She was helped to safety by two women who saw smoke from the blaze as they were driving past the house.
The charges the three men face also relate to burglaries in Belfast, Downpatrick and Ardglass between 20 and 23 February.