Orangeman defies Order for gay daughter's wedding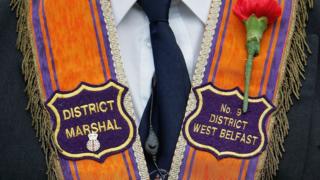 The Orange Order is remaining tight lipped on its newly elected Grand Master's decision to walk his gay daughter down the aisle.
Belfast Grand Master Spencer Beattie celebrated Lesa's civil partnership with Melanie Atkinson in Carrickfergus last week.
But he plays a key role in the Order which refuses to admit gay people.
It is also opposed to same-sex civil partnerships and marriages, calling them "a sign of moral decline".
Pictures of the civil ceremony, featuring the two women in white wedding dresses featured in the Sunday Life.
Mr Beattie told the paper: "I'm all for equality and people having the right to make their own choices."
Later, he said: "I don't know if I'll get in trouble for going to the ceremony, but that's not up to me.
"I'd like to take some advice before saying anything further."
Gay campaigners welcomed Mr Beattie's stance. However, there are those within the Orange Order who would be strongly opposed to it.
A Grand Lodge spokesman said on Monday: "This is a private family matter." There was no further comment.
However, individual members of the Order spoke to BBC Radio Ulster's Talkback on Monday.
'Personal choice'
David McNarry, a former assistant grand master of the Grand Lodge of Ireland, said Mr Beattie "made a decision as a loving father".
"As an MLA, I consistently voted against equal marriage and would do it if I was still an MLA," he said.
"As a member of the Orange institution, that is a position that the Orange Order has taken in reference to same-sex marriage.
"They are both, in my opinion, quite honourable positions to adopt and adhere to," he added.
"My love for my daughter would far outweigh that position that I would have... You can only say it as yourself.
"My love for my daughter - I would do the same as Spencer."
Orangeman and former Ulster Unionist leader Tom Elliott said it was about "personal choice".
"Clearly this issue is his family and personal commitment to his family and I would support him wholeheartedly in that," he said.
"As David says, you just don't know until these things come to your own door what would happen."