The repair cafe restoring Belfast's community spirit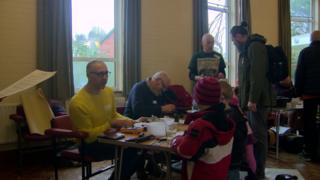 At a community centre in south Belfast, the tool kits are out, ready for a day's work.
About 15 volunteers - or self-styled 'fix-perts' - are part of Northern Ireland's first ever repair cafe.
People can bring along broken items in their homes that need a bit of TLC and have it mended or patched up for free.
The concept started in Amsterdam in 2009, to try and encourage people to think before they throw something out.
'Throwaway society'
Now it has come to Belfast, and people arrived at the hall with all sorts of challenges for the fix-perts, including a faulty baby monitor, hair straighteners and broken lamps.
Victor Henriquez, one of the volunteers, was on broken bicycle duty outside the hall in freezing February weather.
He said he wanted to get involved in order to "do something about this throwaway society we live in".
"People buy a bike and it gets a puncture or the chain snaps, and people throw it out - it seems ridiculous and unsustainable to me," he said.
"This is a hobby and a passion for me, but it should be a collective effort where people come along to help each other."
He said his wife would be arriving at the cafe later in the day, with items that he didn't know how to fix.
"I can't fix everything! I think she's bringing some bracelets and smaller things I'm not good with," said Victor.
'Restore spirit'
There are thought to be more than a thousand repair cafes across the world, but this is the first of its kind in Northern Ireland.
One of the organisers, Christine McCartney, said the cafe was going from "strength to strength" and it is hoped it can restore some community spirit as well.
"It's a lovely opportunity for people to share skills and come together - and connect with another person.
"We have great amateur fixers on hand - sewing experts, former engineers and retired teachers - who value the idea of repairing things."
There is no cost for getting something repaired, but there is a slight disclaimer, Christine said.
"We don't guarantee we can fix it but we'll have a look, offer some advice and hopefully get it repaired."
Inside the main repair hub, a more challenging repair - on a doll more than 40 years old, who needs a lot of care and attention.
'Little local initiative'
But fix-pert James Clarke said he was confident about the doll's prognosis.
"The doll just needs a bit of rejuvenation therapy - we'll try and fix her worn eyes and get the pull cord for her voice mechanism out as it's snapped," he said.
"This doll is the highlight of the day; I've fixed some lamps and hair straighteners but there's some pressure here."
The cafe doesn't have a fixed location in Belfast, and it plans to move around different areas of the city in order for more communities to get involved.
"We hope if other people like the idea they'll do something in their own area," said Christine.
"We want to reach out to different people and start thinking about the amount of stuff we throw away - it's a lovely little local initiative."
So before putting those broken items in the bin next time you're doing a clear-out at home - why not take them to a fix-pert to see what they can do instead.
You can hear more about this on The Sunday News on BBC Radio Ulster at 13:00 GMT.