Lords' Twitter row over Stormont deadlock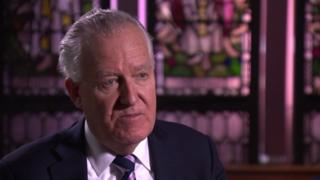 A Conservative peer has claimed changes made to the Good Friday Agreement when Labour was in power are the source of many of Stormont's recent problems.
Lord Caine, a special adviser at the NIO, has been a key behind the scenes figure during many talks processes.
He dismissed a claim by former Northern Ireland Secretary of State Lord Peter Hain that the Conservative government has allowed Stormont to collapse.
Talks to restore the devolved institutions broke down last week.
'Sharp exchanges'
Last weekend, a number of high-profile Brexiteers suggested that the 1998 deal may no longer be fit for purpose.
Critics include ex-Northern Ireland Secretary Owen Paterson, Tory MEP Daniel Hannan, and Labour MP Kate Hoey.
However Lord Caine claimed changes to Northern Ireland's system of government made at St Andrews a decade ago, when Lord Hain was at the Northern Ireland Office (NIO), had proved far more damaging than recent critical comments about the Good Friday Agreement from Conservative Brexiteers.
The deal at St Andrews in 2006 laid the groundwork for the DUP and Sinn Féin to share power in 2007.
'Cheap political points'
In some sharp exchanges over social media on Thursday, Lord Hain accused Prime Minister Theresa May and her predecessor David Cameron of wilful neglect and failing to act as honest brokers.
The Conservative adviser in turn claimed the former Northern Ireland secretary was attempting to score cheap political points.
Lord Caine has advised a number of Conservative Northern Ireland secretaries including Lord Mayhew, Owen Paterson, James Brokenshire and Karen Bradley.
He rarely makes any public comments regarding his work on the political process.