County Antrim: Staff 'shaken' after man sets shop on fire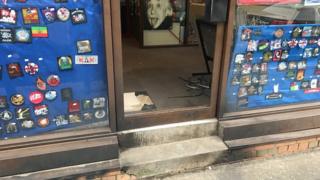 Customers and staff in a shop in Belfast have been left "badly shaken" after a man poured a flammable liquid around the inside of the premises, set it alight and ran off.
The incident happened about 12:50 GMT in Rip-Off on Donegall Street on Friday.
There were three people in the store at the time, none of whom were injured.
The Northern Ireland Fire and Rescue Service (NIFRS) put out the fire. Police are appealing for information.
Police said they believed the man bought petrol from a filling station on Clifton Street before making his way to Donegall Street.