End of an era at Bert McCormick's Ballyclare music shop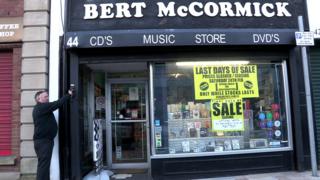 After more than four decades selling records from around the world, on Saturday Bert McCormick brings the shutters down on his eponymous Ballyclare store for the final time.
Now 78, music man Mr McCormick started in the business when he was just 16 years old.
He was a jazz keyboard player before going to work for a record label and then touring with showbands around Northern Ireland, playing with the likes of Chubby Checker and The Kinks.
But it was in 1976 that he spotted an empty unit in Ballyclare's Main Street, and fulfilled his lifelong ambition of opening his own record store.
He has worked there ever since, with his wife, daughter and grandchildren all helping out over the years.
Mr McCormick told BBC News NI that many of the artists who were in demand when he started the shop remain just as popular now.
"When I opened it was Elvis, The Rolling Stones, The Beatles, Little Richard, Fats Domino - they're all still selling but you can't say that about the modern artists.
"One minute you hear of them, the next they're gone," he said.
"Even when a true artist dies, their music lives on."
'Phenomenal'
But it's a country artist who takes the title as Mr McCormick's best seller.
"Outside the likes of Elvis, who have always been massive sellers, the one thing that really took off massively with us was whenever Garth Brooks came on the scene," he said.
"He was gigantic, he sort of changed country music from the old style to the modern.
"He was phenomenal as far as sales were concerned."
Over the years, Mr McCormick has imported records from around the world for customers looking for rare items.
Such is his reputation that local band Jeb Library penned a song in his honour called: "If Bert can't get it, it can't be got."
So is that true?
"There's no reason why any good record shop shouldn't be able to get anything that they want, but a lot of people say to me when they go into a big store they're told they don't have something and that's it - whereas we imported stuff from all over the world for people," he said.
"We've brought stuff in from Canada, America, Australia, and we've shipped around the world too.
"The greatest buzz I get is when someone comes in and says they've been told something's not available, and I get it for them, or I can walk up, lift something and say, 'Is this what you're looking for?'
"That gives me the greatest pleasure."
With so many years under his belt, Mr McCormick has been in business long enough to see the way we listen to music come full circle.
"Young ones today listen to all their music on headphones, they've nothing to show," he said.
"With vinyl coming back it's a complete circle.
"When you opened a vinyl record you had all the artwork and lyrics, compared with what they've got now - its just a download, that's all."
Despite the recent resurgence in vinyl sales, Mr McCormick says he worries that the local record shop is becoming a thing of the past.
"We've catered for a certain age group, and that's why it's worked for us," he said.
"Our clientele still likes to buy a CD, read the insert and all the information, they're not into this downloading.
"A lot of older people do not trust the internet, and that's where we've been pretty successful."
Bringing the shutters down on 42 years of his life, Mr McCormick says he plans to keep up his love of music and play his electric piano at home into his retirement.
"It'll be strange, but it's another chapter," he says.
"When you've been doing the same things for so many, many years it's only natural that you will find it strange, but I've been very lucky.
"But the thing I'll miss most is the people. I've dealt with so many genuine music lovers."
Thank you for the music
As he reflects on the shop's closure, Mr McCormick has been inundated with cards, gifts and well wishes from customers who simply want to thank him for the music.
"It's lovely to think the shop meant that much to people," he said.
"Every day to me is a highlight, so much goes on in this business. It's the most enjoyable business that I feel anyone could be in.
"Music touches everybody. It's so enjoyable to be in a business that you love all your life - not many people can say that that.
"I could go on, but I feel now is the right time to go out on a high."