Ulster Bank in Northern Ireland made £59m profit in 2017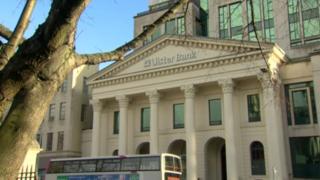 Ulster Bank in Northern Ireland made a 2017 pre-tax profit of £59m on a turnover of £184m.
Profits have increased by only £1m but are much less reliant on the 'write-back' of impairment charges compared to previous years.
Write-backs refer money set aside to cover expected losses that can now be released as loans performed better than expected.
In 2016 write-backs accounted for £27m of the bank's profits.
Last year it was just £6m.
Richard Donnan, head of the bank in Northern Ireland, said the business showed a "strong performance with a profit driven by positive underlying performance and significantly reduced impairment write-backs".
In November, the bank said it would close another 11 branches this year, reducing its total number to 44.
"Our focus on cost is an important part of our ability to reinvest in the development of our people and digital services that make it simpler and easier for customers to bank with us," Mr Donnan said.
"Our digitally active customer base grew by 21% year on year."
In 2015 the bank's parent company, RBS, split Ulster Bank's Irish operation into separate businesses, north and south of the border.
RBS has returned to profit for the first time in a decade as it continues its recovery.
Chief executive Ross McEwan told the BBC it was "a really symbolic moment".
The bank, which is still majority-owned by the taxpayer, made an annual profit of £752m compared with a £6.95bn loss the year before.
RBS still faces a potentially massive fine from the US Department of Justice over the sale of financial products linked to risky mortgages.