125 jobs to go at Carrickfergus tyre pressure firm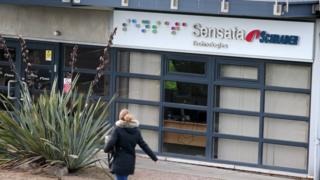 The manufacturing company Schrader Electronics is planning to cut 125 jobs at its operation in Carrickfergus.
Schrader, which is owned by the US firm Sensata Technologies, makes tyre pressure monitors and other sensor equipment.
It is one of Northern Ireland's biggest manufacturing employers with 1,301 staff working across two sites.
It said the decision had been made in response to a drop in expected demand for some of the products made in NI.
The company has two sites in Northern Ireland - Antrim and Carrickfergus.
Sensata has been in Northern Ireland since its 2014 acquisition of Schrader Electronics, which was founded in 1988.
It said it would engage in a consultation period with employees, during which proposed alternatives to compulsory redundancy would be considered.
Graeme Thompson, UK general manager of Sensata Technologies, said: "Following a review of our operations and in response to a drop in expected demand for some of the products currently manufactured in Northern Ireland, the company regrets to announce that we will potentially be reducing the workforce at our site in Carrickfergus by 125 people."
He said that the company's other site in Antrim was not impacted by the decision and that the firm "remains committed to our Northern Ireland operation".
Sammy Wilson, the MP for the area, said it was "another serious blow" to Carrickfergus.
"Coming in the wake of last month's announcement of the possible closure of Kilroot Power station, today's news marks a bleak start to the new year for East Antrim," Mr Wilson said.
"I have been assured by Sensata that details of an enhanced redundancy package will be made available to affected staff in the coming days and I intend to follow up with the company next week."