The Mount Inn: Men bailed in '20 masked men' case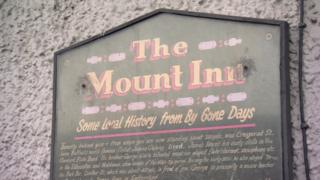 Twenty masked men stormed a pub in north Belfast and read out threats in a "show of strength", police have said.
Details emerged during the court appearance of three men charged in connection with the alleged incident.
It happened at The Mount Inn on North Queen Street on Wednesday night.
A police officer said a group "stormed the bar" and that a man, branded the "ringleader", read out a statement to say anti-social behaviour would no longer be tolerated.
Stools were overturned, two men punched and patrons cornered, according to police.
Two men allegedly punched during the incident have not made any complaint, and none of the three accused are charged with any assault on them.
'Fearful of consequences'
Andrew Morrow, 25, of Hopewell Crescent, Belfast, Christopher Moore, 25, of Woodvale Drive, Belfast and David Thomas Majury, 47, with an address in Church Green, Holywood, appeared at Belfast Magistrates Court on Friday.
They are charged with affray and unlawful assembly.
The court heard that witness statements have not been taken as those involved are said to be fearful of the possible consequences.
All three men were released on bail, on the condition they did not contact potential witnesses and each other.
They are also not permitted to enter the north Belfast area.
The case will be heard again on 20 April.