Donald Trump urged to appoint NI special envoy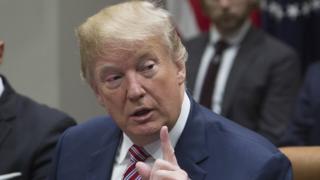 US President Donald Trump has been asked to honour his commitment to appoint a special envoy to Northern Ireland.
The Friends of Ireland group in the US Congress say the collapse of the latest round of talks make it an appropriate time for America to re-engage.
Last year, the president made assurances the job would not be axed.
Congressman Richard Neal said this "critical time" was an "ideal time" for the president to name a new envoy.
'Indispensible'
Northern Ireland has been without an Assembly since January 2017.
The devolved government collapsed in a row over a botched green energy scheme, and the two main parties - Sinn Féin and the DUP - have engaged in several rounds of negotiations to end the stalemate.
The latest rounds of talks to restore power-sharing collapsed last week.
Congressman Neal said while the Friends remained hopeful that a deal could still be struck, "the appointment of a special envoy would help prevent further instability and send a strong message around the world that the United States remains fully engaged in the region".
"Our contribution to the peace process has been described as indispensible on both sides of the Atlantic," he said.
"And with efforts to restore devolution at an impasse, we believe a US special envoy could make an important contribution to those negotiations, just as Senator George Mitchell did two decades ago."
Mr Mitchell, who was President Bill Clinton's special envoy to Northern Ireland, helped broker the Good Friday Agreement in 1998 - the peace deal that led to a power-sharing government in Belfast.