Northern Ireland 'superfan' sentenced over fake tops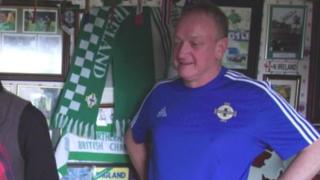 A County Antrim man, once hailed on TV as a so-called superfan of the Northern Ireland football team, has been given 12 months' probation for selling fake team tops on social media.
Gary Wallace, of Clare Heights in Ballyclare, admitted fraud and selling goods bearing false trademarks.
A court heard that when police searched Wallace's home, they found about 200 counterfeit shirts.
Some were already parcelled up ready for posting.
Officers also recovered about £2,000 in cash.
Word of mouth
Wallace, who showed off his collection of genuine memorabilia on a BBC documentary ahead of the 2016 European Championships, admitted he had been selling the tops.
But he claimed he only sold them to friends or gave them to family members as Christmas presents.
After a judge at Belfast Magistrates' Court noted the scale of the operation, Wallace's solicitor argued that, while he had started by selling only to Facebook friends, the business had grown by word of mouth.
The lawyer said the complainant who sparked the police operation - after receiving a top with which he was unhappy - was also one of Wallace's Facebook friends.
No-one was trying to condone the sale of such goods, he said, but the complainant, having bought the top for £27, "must have known it wasn't going to be the genuine article".