Mobile World Congress: Lurgan teenagers to attend major tech event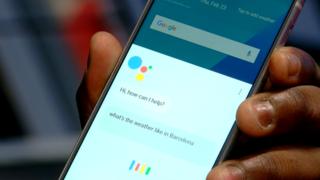 Twelve teenagers from Lurgan, County Armagh, are to be the first Northern Ireland school group to attend the Mobile World Congress (MWC).
The year 10 pupils from St Ronan's College will travel to the event with two teachers on Monday 26 February.
MWC is one of the world's leading technology events and the 2018 congress takes place in Barcelona until 1 March.
More than 2,200 companies take part in the event.
Many use it to unveil the latest developments in mobile phone technology.
More than 100,000 people are expected to attend MWC in 2018, organised by GSMA (Groupe Speciale Mobile Association), which represents mobile phone operators across the world.
---
Highlights from MWC 2017:
Nokia 3310 mobile phone resurrected
Samsung unveils tablets but no phones
Google brings Assistant to more Android phones
Blackberry revives classic keyboard phone
---
The St Ronan's pupils will be attending the Youth Mobile Festival, which is part of the event and hosts 15,000 school pupils.
They will write a daily blog for the school website and participate in technology demonstrations and classes.
'Encourage careers in technology'
St Ronan's principal Michele Corkey said it was an exciting opportunity for the pupils.
"They will be able to engage with interactive activities and presentations related to science, technology, engineering and maths (STEM) subjects," she said.
The trip for the group from St Ronan's was organised by Catalyst Inc, Northern Ireland's independent science park.
The pupils are taking part in its Generation Innovation programme, which aims to encourage schools and young people to develop the entrepreneurial and creative skills they need for the future.
The chief marketing officer at GSMA is Michael O'Hara, who is originally from Northern Ireland.
"We are thrilled to be welcoming a group of students from Northern Ireland to Mobile World Congress this year," he said.
"Their participation in the Youth Mobile Festival will give them a great view of the exciting possibilities enabled by mobile and will hopefully encourage them to pursue education and careers in technology."