Paedophile hunter accused in custody after bail breach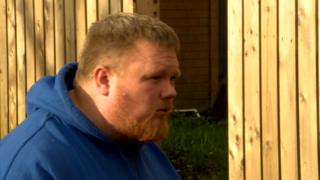 A man facing charges in relation to paedophile hunting groups has been remanded in custody for breaching his bail within 24 hours.
George Keenan, 34, Glenwood Court, Dunmurry, Belfast, sent a message from WhatsApp - an online messaging service.
Just a day earlier, he had been banned from using smart phones and social media apps.
Belfast Magistrates Court heard Mr Keenan sent a message to his ex-partner detailing his mobile phone number.
His court appearance comes just days after he appeared in court alongside two other men, all of whom face a variety of charges including assault, unlawful imprisonment and intimidation.
Mr Keenan faces 18 charges, including assault relating to paedophile hunting and had been told he could not use a smart phone or social media app while on bail.
In court on Thursday, his lawyer said Mr Keenan was a man of "low intelligence" and had experienced some difficulty in securing a phone with no internet access.
'Sophisticated internet devices'
It is understood the single WhatsApp message read: "This is my new number" and concerned childcare arrangements.
The court also heard Mr Keenan had borrowed the smart phone and it was no longer in his possession.
However, a detective said police could not confirm that he had got rid of the phone.
He disputed the contention that Mr Keenan unknowingly breached his bail. He said Mr Keenan owned a "number of sophisticated internet devices" and would be well aware how they worked.
The judge said the breach was "very concerning", adding that "naivety isn't really something he can shield behind".
"He was given bail two days ago and flouted it just like that," she said.
Some of the alleged offences relate to an incident on Belfast's Botanic Avenue on 6 February.
The trio is accused of attempting unlawfully by force, threats or menaces to cause BBC journalist Kevin Magee to refrain from broadcasting an interview on television, as well as disorderly behaviour.
A fresh application for bail was denied after police argued that Mr Keenan could not be trusted to keep his word, despite him having "seen the error of his ways".
The detective said police received assurances from Mr Keenan last summer and in December that he would stop his, so-called, paedophile hunting. However, he persisted.
Mr Keenan is due back in court on 22 March.