Fred Holroyd: Ex-surgeon backs 'false mental illness' case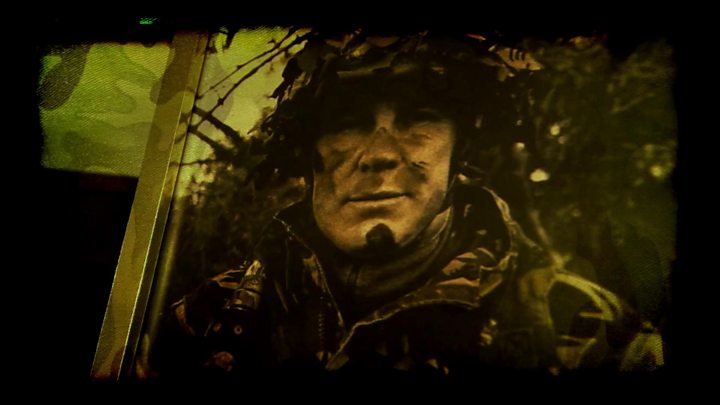 A former military surgeon is backing legal action by an ex-intelligence officer who says he was forced to leave the Army because he raised concerns about an alleged shoot-to-kill policy.
Fred Holroyd said he was falsely diagnosed with a psychiatric illness for political reasons.
These allegations have now been backed by Dr Hugh Thomas, who was working in a hospital where Mr Holroyd was admitted.
The Ministry of Defence is expected to robustly contest the claim.
Mr Holroyd, a former Army captain who served in County Armagh in the 1970s, is suing the Ministry of Defence.
He has said he was unlawfully detained in the military wing of Musgrave Park Hospital in south Belfast and an Army hospital near Southampton in May 1975.
"I have evidence, through the recent disclosure of my British Army medical file, of a tortuous malicious conspiracy to unlawfully detain me in a military psychiatric institution and to force me to resign from the British Army," he said.
He has said he was targeted because he made allegations about collusion between Army units and loyalist and republican paramilitaries, and alleged some soldiers were operating a shoot-to-kill policy.
Dr Thomas, a major with the Royal Army Medical Corp who was based at Musgrave Park, said he believes the Army ordered doctors to diagnose a mental health condition.
"I think it (the Army) had made its mind up to have a diagnosis that they wanted," he told the BBC.
He remembered the day Mr Holroyd was admitted because a consultant with no psychiatric qualifications complained that he had been ordered to diagnose a psychiatric condition.
"The first I knew about it was when a senior physician colleague of mine came into the theatre and sought sanctuary, and he sought sanctuary because he had been ordered to section Fred, and had found that an abhorrent request, which it was," he said.
The retired consultant believes military law and medical ethics were breached and he said he was willing to go to court to give evidence on Mr Holroyd's behalf.
"It was an appalling thing to ask someone to section someone for a political reason, and I believe this was a political reason," he said.
'I was in the way'
Mr Holroyd resigned from the Army in 1976.
He has claimed on many occasions that he was victim of an internal war between elements of the British intelligence services.
Lawyers representing Mr Holroyd in his writ against the MoD say his claims are supported by military medical records released in 2016, which state he "presented without any material psychiatric symptoms and remained entirely rational at all times".
When asked why be believed the military authorities would act in the way he has alleged, he said they wanted to get rid of him.
"To keep me quiet about my complaints about what had been going on in Ireland," he added.
"I was in the way and I think the policy was eased in over me and I had to be got rid of."
Mr Holroyd is claiming damages from the MoD for unlawful detention, and is also seeking compensation for loss of pay and military pension.
His lawyers claim that no one with any qualifications in psychiatry assessed his mental condition.
'Inappropriate to comment'
"I have always said that there was nothing wrong with me and that I was not mentally ill," Mr Holroyd told the BBC.
He is also seeking an apology.
"All I've ever said is just say 'we made a mistake, we're sorry, and what can we do to make it right'. They've never said that."
In a statement the MoD said that "as legal proceedings are ongoing it would be inappropriate to comment at this stage".