Roberto Martinez replies to County Down schoolboy's letter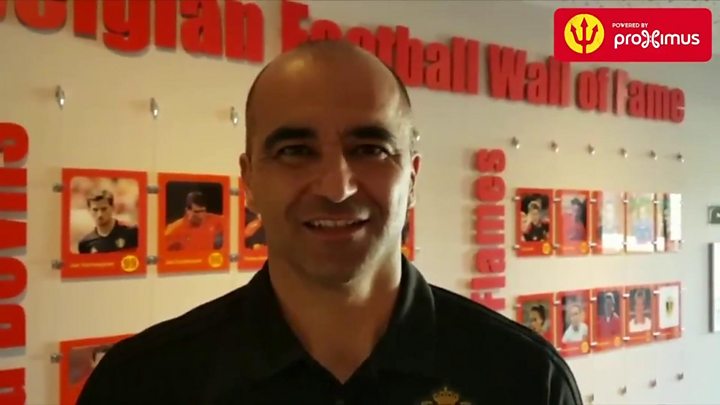 Letter writing may be a dying pastime among children, but one County Down schoolboy has proved that the simple act of putting a pen to paper can reap surprising rewards.
Ten-year-old Charlie McCarthy was on a break with his parents during mid-term in February when he decided to put into practice the skills he had learned in school the previous week.
Roberto Martinez - the renowned manager of the Belgian national football team - seemed like a good pen pal to start with.
However, the St Colman's Primary School pupil from Annaclone had few expectations that the letter would actually reach the former Everton manager, fewer still that he would respond.
So it came as quite a shock on Thursday night, when a video reply from Martinez was posted on the Belgian national team's twitter account.
In the original letter, Charlie introduced himself, controversially describing himself as a supporter of Everton's rival team, Liverpool FC.
He went on to enquire about the Belgian team's preparation for the 2018 FIFA World Cup: "Is your team excited about the World Cup in Russia? What is it like to be the manager of one of the best teams in the world?" he asked.
Clearly unperturbed by the Liverpool reference, Martinez responded with praise for Charlie, urging him to "carry on being curious".
"Thank you so much for your letter. It has brought a smile to everyone here in the federation to realise that you know so much about Belgium, about our country, our footballers and tradition," he said.
"Thank you for your interest and your knowledge. We hope that you can support us throughout the World Cup. We're really excited, really looking forward to it.
"It's a fantastic challenge as you can imagine. We are a nation of 11 million, but we have incredible footballers and great ambitions.
"So the work starts now. We're going to give everything we've got."
He added: "I think being curious as a human being is a fantastic quality. You clearly are."
The video ends with good wishes to Charlie and the residents of Annaclone: "All the way from Tubize here in the football centre in Belgium, to everyone in your town in Northern Ireland, have a fantastic World Cup and don't forget to support us."
Speaking to the BBC on his lunch break on Friday, Charlie said he was "totally amazed" when his father showed him the video on Thursday afternoon.
"I came home from school and dad told me about it. I couldn't believe it, I was so happy."
And the Primary 6 pupil insisted his friends were not at all jealous: "No, they've all been really nice about it - they were happy for me," he said.
Head teacher Kevin O'Neill, who posted the letter for Charlie in February, also tweeted a copy of it at the time, along with a message saying how proud he was of Charlie and all his other pupils.
"When a P6 footballing fanatic puts down on paper how much he loved the @BelRedDevils & presents it to the principal as independent work over half-term... absolutely privileged to work with such brilliant minds and pro-active children," he wrote.
That message was subsequently re-tweeted by the Belgian team, members of the women's national team, UEFA, the Belgian ambassador to the UK and Charlie's MP, Chris Hazzard.
Reacting to the video on Friday, Mr O'Neill said: "I love seeing children working independently and here's a great example of where a bit of independent spirit can lead.
'Amazing compliment'
"The Key Stage 2 pupils had been focused on developing their writing skills, practicing with correspondence to councils on speeding and parking, that kind of thing.
"Charlie took that one step further, asking me if he could write a letter to Roberto Martinez and I said that if he did, I would take personal responsibility for sending it. So I couldn't be more delighted for him.
"For a man like Roberto Martinez to take time out of his schedule weeks before the World Cup to respond to Charlie, it's just an amazing compliment to him.
"Charlie is collecting these Panini stickers - that's as close as most kids get to their heroes. Charlie has taken that to another level and he's on cloud nine, but he deserves it as he's a lovely, modest boy."