'Stop this torment,' says scarred woman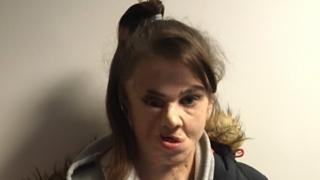 A woman with a facial disfigurement says she has to wear earphones when she leaves her home to blank out a tirade of abuse from local teenagers.
Janine Howard, 33, from north Belfast says her life has become a living hell. Her face was disfigured in a childhood illness.
"Instead of calling me Quasimodo, they call me Jeanny-Meany Modo," she said.
"'Pasty face, stupid face, spastic face, squashed-up face,' those are the names."
Police have confirmed that they are investigating the abuse.
Ms Howard told the North Belfast News that she developed leukaemia when she was three years old.
Her facial disfigurement was caused by a rare bacterial infection while she was in hospital.
She said police had not been able to do much to help her.
In an interview with BBC's Talkback on Thursday she said that she did not want to be a "freak show" every time she left her house.
The answer was to wear headphones, she said.
'Angry and uptight'
"I see their mouths moving but, with the headphones, I can walk straight through them with my head held high," she said.
Ms Howard said she also found that her photograph was being posted on Facebook with people poking fun at her.
"I'm annoyed, angry and uptight," she said.
"It's wrong and it can be dangerous to people. It can affect people mentally. I have too many family and friends for that.
"But I do get annoyed and upset.
"What am I supposed to do - run about wearing a Halloween mask or lock myself indoors?"
She appealed to the people who were taunting and humiliating her on the street: "Stop and think before you speak and let me live my life."
Callers to Talkback said such intimidation was "heartless" and condemned a "sick society" that pokes fun at people with a disability.
The police said that since being made aware of the latest abuse, they had been in contact with Ms Howard "to offer support".
Insp Laura Kelly added: "Police met with Ms Howard in December following the initial report into an image and comments posted on social media and gave her advice on this matter.
"We were advised that she had been in contact with the social media company who removed the posts."
Insp Kelly said hate crime in any form was wrong and appealed to the public to report it.