Randox announces £50m investment in medical testing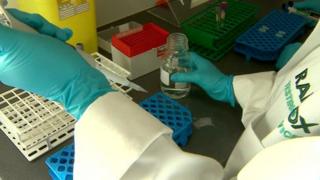 The Northern Ireland firm Randox has announced a major £50m investment in its business to develop new medical testing technology.
Invest NI is providing £23m of the cash - one of the largest research and development grants it has ever made.
The project involves establishing research centres at Queen's University, Belfast and Ulster University.
Randox, based in Crumlin, County Antrim, has global sales of over £1bn and employs about 1,500 people.
The firm said uncertainty around Brexit did not figure in its investment decision.
About 75% of its sales are outside the EU.
'Excellent news'
Randox managing director Dr Peter Fitzgerald said the announcement "demonstrates our commitment" to trying to improve people's healthcare.
The company will use the money to work on technologies to help diagnose cancer, heart conditions and infectious diseases.
The chief executive of Invest NI, Alastair Hamilton, said Randox technology has "the potential to revolutionise the global healthcare industry".
He added: "This is excellent news for Northern Ireland's life and health sciences sector."