Rugby rape trial medical evidence disputed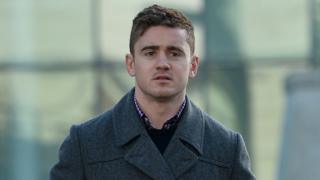 A doctor has questioned medical evidence given at the rape trial of two Ulster and Ireland rugby players.
Dr Janet Hall took issue with the injuries recorded by another doctor who had examined the alleged rape victim.
Dr Hall was called to give evidence by Paddy Jackson's defence barrister on Day 18 of the trial. She is the first defence witness in the case.
Mr Jackson and fellow rugby player Stuart Olding both deny raping the same woman on 28 June 2016.
At the trial on Tuesday, the court heard that a doctor who examined the woman the day after the alleged attack found a 1cm-long injury and bruising to her vagina.
On Wednesday, a different doctor, Dr Hall, give an assessment based on the medical notes and a video recording of the woman's vagina.
Dr Hall said: "From my perspective, I didn't see the injury."
In terms of bruising, she said she saw "purple discolouration" but it may have been as a result of the lighting in the room.
She did not see the alleged victim in person and accepted that seeing with the "naked eye" is most important.
The court was told that Dr Hall has extensive experience in dealing with sexual assaults, and the injuries victims suffer.
She was asked by a prosecution barrister whether most victims of sexual assault resist or allow it to happen.
Dr Hall replied: "The evidence overwhelmingly is that it's allowed to happen."
Jury warned
The court was later told by a senior forensic officer that Stuart Olding's DNA was found on the woman's clothing.
Mr Olding, 24, from Ardenlee Street, Belfast, is charged with rape. He denies the charge.
Mr Jackson, 26, from Belfast's Oakleigh Park, is charged with one count of rape and one count of sexual assault. He denies the charges.
Two other men have also been charged in connection with the case.
Blane McIlroy, 26, of Royal Lodge Road, Belfast, is charged with one count of exposure. He denies the charge.
Rory Harrison, 25, of Manse Road, Belfast is charged with perverting the course of justice and withholding information. He denies the charges.
The 12-person jury has been told to expect to hear tape-recordings and transcripts of police interviews with the four defendants on Thursday.
Judge Patricia Smyth told the jury that the interviews stretch to "many, many hours" but extracts will be heard in court.
The judge also reiterated her warning to jurors not to discuss the case with anyone.
"It is your view that counts in this case," she said.
"Please do not discuss evidence with anyone. And, as I have said before, be on your guard."