Woman dies after nine-hour ambulance wait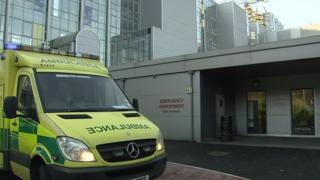 The Northern Ireland Ambulance Service has apologised to the family of an elderly woman who died after waiting more than nine hours for an ambulance.
The patient was due to be transferred to hospital from a County Down care home last week, but died in the home after other calls were prioritised.
The case is now being investigated as a Serious Adverse Incident.
In its apology, the Northern Ireland Ambulance Service (NIAS) said relatives "have a right to expect answers".
The woman was a resident of Hollygate Lodge care home in Carryduff, according to the Irish News.
On the afternoon of 12 February, a GP requested an ambulance to take the pensioner to the Royal Victoria Hospital in Belfast.
'Higher priority calls'
The call was made at 13:42 GMT and NIAS agreed with the doctor that the transfer should take place within four hours.
However, at 17:04, staff at the ambulance control centre decided that "due to the existing workload for higher priority calls, an ambulance would not be available within the agreed timescale", according to an NIAS statement.
The statement added that at 20:25, an ambulance was "allocated to this call but was stood down en-route to attend another call".
The ambulance control centre received two further phone calls on the patient's behalf at 20:34 and 22:14, asking for an update on when an ambulance would arrive.
Finally, an "intermediate care" ambulance became available at 22:35 and it was sent to the care home.
'Regret'
However, by 23:06 the case was upgraded to a Category A call and an A&E crew was also deployed to treat the patient.
"Regrettably, the patient died at the scene," said the NIAS statement.
Its chief executive, Shane Devlin, said: "I regret the fact that we were unable to respond to this patient's needs within the timeframe agreed with the GP and even longer.
"I would like, on behalf of the service, to apologise to the relatives of the patient who have a right to expect answers to any questions they may have in relation to how this call was handled and we would be happy to facilitate this."
No details of the patient's age or medical condition have been released.
NIAS confirmed it has launched an internal investigation.
The inquiry is being led by an assistant director within the NIAS and a report is expected to be ready by 17 April.