Man cleared of raping teenage boy in Belfast's Falls Park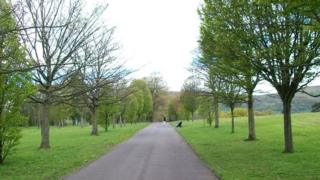 A 40-year old father of two has been acquitted of raping a teenage boy in west Belfast's Falls Park.
Gerard Scannell faced four charges arising from an alleged sex attack against the boy, who was 16 at the time.
The teenager claimed he was dragged into bushes and raped in July 2016.
However, after it emerged on Wednesday that the Crown would not be proceeding with the case, Mr Scannell was found "not guilty by direction of the court".
Mr Scannell, who is originally from Ballymurphy Road, but who was living at an undisclosed bail address in another area of Belfast, was charged with three counts of rape and of sexually assaulting the teenager.
'I'm going home'
The painter and decorator spent about 100 days on remand as well as being unable to return to west Belfast as a result of the allegations, which he consistently denied.
A trial which opened at Belfast Crown Court last month had to be aborted after the alleged injured party refused to continue with his evidence.
During his cross-examination, the teenager got up mid-question and said: "I'm going home".
A retrial was due to commence on Wednesday, but after a jury was sworn in, Judge Geoffrey Miller QC was told that the Crown would not be offering any evidence in the case.
As a result, Mr Scannell was acquitted on all four charges.
Judge Miller told the jury: "A trial was commenced some weeks ago and had to be adjourned mid-way though evidence being given.
"As a result of matters which arose at that time, the prosecution reviewed the nature and quality of the evidence in the case, and reached a determination that the test for prosecution is no longer met."
Telling the jury that Mr Scannell was entitled to a not guilty verdict, Judge Miller directed them to return that verdict.
When Mr Scannell was told he was free to go, his family applauded in the public gallery, and he was hugged as he left the court.
'My life has been destroyed'
Speaking afterwards, Mr Scannell said: "Since July 2016, I have faced unbearable anguish, removal from my home and family, and have spent some of this time in prison.
"I am both grateful and relieved to have been found not guilty of these allegations, some two years later."
He added: "My life has been destroyed over the last two years. I have been removed from my family and community - but I hope now to be able to rebuild my life and return to my community, with the help of my family.
"I will be forever grateful to all who supported me through this difficult process. I am also thankful to my legal team, and my faith in the legal process has been restored.
"I hope now, with the help of my family, to regain my standing within society and my own community."