Northern Ireland unemployment rate at 10-year low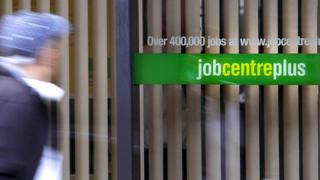 Northern Ireland's unemployment rate has fallen to a 10-year low.
It now stands at 3.9%, below the UK average of 4.4%, according to figures released by the Northern Ireland Statistics and Research Agency (NISRA).
The number of people claiming job seekers allowance also dropped by 700 in January to 28,400.
Other measures of the labour market, employment and economic inactivity, also showed improvement in the last three months of 2017.
NISRA said Northern Ireland now has one of the lowest unemployment rates of the UK's 12 regions.
A year ago, it had one of the worst.
'Statistically significant'
The unemployment rate in the EU is 7.3% and in the Republic of Ireland it is 6.1%.
Meanwhile, the economic inactivity rate in Northern Ireland was 28.4% in January - 2.3% higher than the same time last year.
This includes groups of people not looking for or available to work such as students, the sick, disabled people and carers.
NISRA says the increase over the year was statistically significant and is likely to reflect a real change.