Brexiteers branded 'reckless' over NI peace process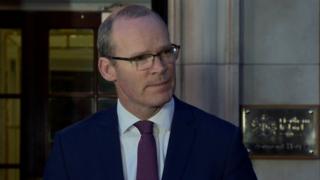 Brexiteers who have questioned the sustainability of the Good Friday Agreement have been branded "reckless" by the Irish deputy prime minister.
Simon Coveney warned they could undermine the foundations of Northern Ireland's "fragile" peace process.
It followed suggestions by number of high-profile Brexiteers that the 1998 deal may no longer be fit for purpose.
Critics include ex-Northern Ireland Secretary Owen Paterson, Tory MEP Daniel Hannan, and Labour MP Kate Hoey.
The 1998 Good Friday Agreement, also known as the Belfast Agreement, demands mandatory coalition government involving both unionists and nationalists.
Responding to Mr Coveney's comments, UK Brexit Secretary David Davis said that he was "not conscious of anybody talking down the Good Friday Agreement, adding that "certainly nobody in government has".
Speaking in Vienna, Mr Davis said that "everything we are doing is aiming towards ensuring we meet every aspect of it (the 1998 Agreement), so I don't foresee that being a problem".
'Exhausted boxers'
The three Brexiteers have expressed support for a rethink of the political arrangements brought about by the Good Friday Agreement after the failure of the latest attempt to restore devolution.
The Democratic Unionist Party (DUP) and Sinn Féin blamed each other after talks broke down in acrimony last week over the Irish language.
On Friday, Mr Paterson retweeted an article by Telegraph columnist Ruth Dudley Edwards entitled: "The collapse of power sharing in Northern Ireland shows the Good Friday Agreement has outlived its use."
On Sunday, Mr Hannan wrote a column in the same newspaper saying the 1998 power-sharing accord represented "a bribe to two sets of hardliners".
The Conservative MEP said the deal meant the DUP and Sinn Féin were propping each other up "like two exhausted boxers in a clinch".
Mr Hannan said his objections to the Good Friday Agreement (GFA) "were not on orange or green grounds but on democratic grounds".
Ms Hoey argued that her scepticism of the 1998 accord had "nothing at all to do with Brexit".
She tweeted: "Hiding head in sand over viability of sustainability of mandatory coalition is reckless and wrong."
'Blind faith'
Ms Hoey was responding to criticism from her Labour Party colleague, Owen Smith, the shadow secretary of state for Northern Ireland.
Mr Smith said it was "reckless and utterly wrong to question the value and sustainability of the Good Friday Agreement".
"Their concerted, transparent effort to undermine the GFA is driven by their blind, misplaced faith in Brexit.
"They should know better."
Tanaiste (Irish Deputy Prime Minister) Simon Coveney echoed Mr Smith's comments in a tweet sent to Ms Hoey, Mr Hannon and Mr Paterson on Tuesday.
"Talking down Good Friday Agreement because it raises serious and genuine questions of those pursuing Brexit is not only irresponsible but reckless and potentially undermines the foundations of a fragile peace process in Northern Ireland that should never be taken for granted," Mr Coveney wrote.
'Petty British nationalism'
He added that the current British and Irish governments remain "absolutely committed to GFA".
Mr Coveney's party colleague, Fine Gael Senator Neale Richmond, was even more forthright in his criticism of Brexiteers.
He tweeted: "Not content with stirring up horrible xenophobia in the campaign, they now want to destroy peace in Ireland for their petty brand of British nationalism!"
Mr Richmond added: "The same people who bleat on about respecting democracy willing to run roughshod over an agreement backed by 71% in the North & 94% here [the Republic of Ireland]."
'Hysterical Remainers'
However, Mr Paterson robustly defended his position, saying: "Brexit is emphatically not a threat to peace in Northern Ireland."
He added that it was "disgraceful that hysterical Remainers and Brussels are weaponising the Irish border issue".
Mr Paterson also pointed to a recent interview with former Ulster Unionist Party leader, Lord Trimble, one of the architects of the 1998 peace deal.
Lord Trimble told BrexitCentral that it was "rubbish that Brexit will undermine the Good Friday Agreement".
Mr Paterson, who served as Northern Ireland secretary from May 2010 to September 2012, now supports calls for interim direct rule from Westminster in the absence of a Northern Ireland Executive.
He said this would also provide time "to discuss practical improvements to Belfast Agreement".
The Conservative MP told those who were angered by Ruth Dudley Edwards' article they "should recognise that NI citizens deserve good government" as their health services were "falling behind the rest of the UK".
In December the UK and the EU reached a deal on Brexit which specifically referenced the Good Friday Agreement.
The deal contained a "fallback" clause regarding Northern Ireland in which the UK undertook, in the absence of other agreed solutions, to "maintain full alignment with those rules of the internal market and the customs union which, now or in the future, support north-south co-operation, the all-island economy and the protection of the 1998 Agreement".
The latest political exchanges come as British and EU officials are working on how to put the Brussels deal into a more legally enforceable form.