Clough burglary: Woman tied up and fire started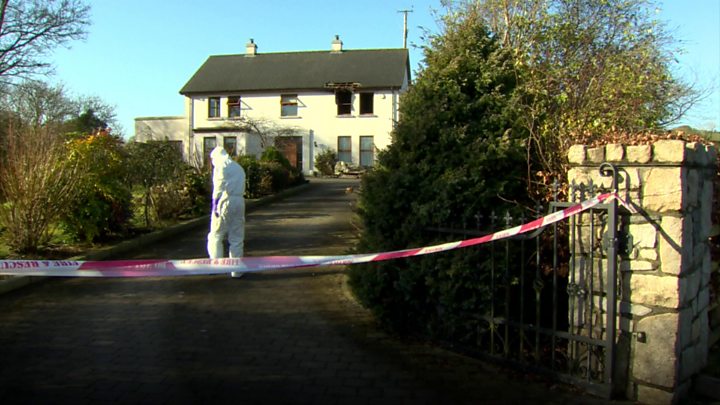 A woman has been tied up, robbed and a fire started during a break-in at a house in County Down.
Police said that shortly after 13:00 GMT on Monday, two masked men entered a house at School Road near Clough.
The woman, who was employed as a cleaner at the house, was tied up by the intruders who made off with an iPad and a MacBook.
The fire appears to have been started deliberately, said the Northern Ireland Fire and Rescue Service (NIFRS).
Two other women who were driving past the house saw smoke coming from the upstairs bedroom.
They ran inside and helped the victim, in her 50s, to safety.
The intruders left the scene in a grey Peugeot 206 with a number of items, including laptops and watches.
The car was found burnt out shortly after midnight at the Old Mill on the Clarkhill Road in Castlewellan.
The owner of the house, Matthew Davy, was not at home during the time the attack took place.
The woman was "lucky to be alive", he told BBC News NI.
"She was held against her will for at least two hours, and at the finale of it they tied her up using wires of some kind," he said.
"As far as I know, they left her in one room and a fire was started in another room and they left her there.
"I don't understand what the thinking behind that was, or why somebody would want to do that."
Police said that while the woman was not injured, she had been left shocked by her ordeal.
They said significant damage was caused to the house as a result of the fire, which was later put out by the fire service.
South Down DUP MLA Jim Wells said the attack had left the community "fearful".
"Only for the quick thinking of two people passing by, who saw the fire and alerted the emergency services this could have been a different story," he said.