Police officer Linda Totten jailed for shoplifting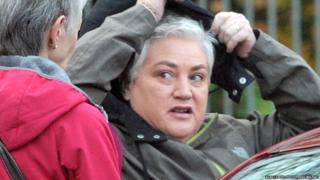 A police officer has been sentenced to six months in jail for shoplifting, after being found guilty in November.
Linda Totten, 50, whose address was given as Enniskillen PSNI station, arrived at Armagh Crown Court on Monday on a mobility scooter.
She was helped into court by her partner and two court staff.
During her trial in Dungannon, the court heard her described as a "bluffer", who carried out "brazen and bold thefts".
'Scandalous accusations'
The court was told she had been in Asda in Enniskillen twice in December 2013. CCTV footage from both visits showed Totten with a trolley-load of goods on both occasions.
A defence lawyer said Totten, a serving police officer of 27 years' standing, who was reinstated to the police last year, is "facing imminent disciplinary proceedings. Her livelihood and reputation are completely at an end".
But the judge, Neil Rafferty QC, told Totten: "Those whom we trust to uphold the law, we do not expect to break it."
He said he was absolutely satisfied that there had been a degree of sophistication, a degree of premeditation and brazenness about the offences.
The judge said while the defendant was entitled to defend herself as she saw fit, in an earlier trial where the jury could not agree a verdict, she had made the most scandalous accusations against the staff at Asda, of homophobia, bigotry, prejudice and racism.
He emphasised that those allegations had no basis whatsoever.
He told Totten he viewed the offences as so serious, so premeditated and so culpable, that only an immediate custodial sentence would suffice.
Speaking before sentencing, the defence lawyer said his client's health had declined recently, that she has been referred for rheumatology and neurology problems, and had been bedridden since last weekend.
He added that she was so determined to attend court that her friend located a mobility scooter for her.
Totten was again assisted from the court by custody staff.
She is expected to lodge an appeal at the High Court.