Funeral of Poleglass murder victim Johnston held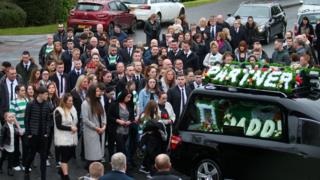 The funeral has taken place of Raymond Johnston, who was shot dead in front of his partner and an 11-year-old girl in west Belfast last Tuesday night.
Mr Johnston, 28, was shot in the chest with a shotgun at a house at Glenbawn Avenue in the Poleglass estate.
Police believe dissident republicans may have been responsible.
At the funeral, a message from Mr Johnston's young son read: "I love you so much daddy. I wish you were still here."
A priest told mourners: "That someone would deliberately shoot a fellow human being is unbelievable. No-one deserves to die in such a way."
He added: "Those who feel they have the right to be judge and jury will also have to face God."
The priest also told those gathered at the Church of Nativity in Poleglass that Mr Johnston's family said he was a "jack of all trades" and a "loveable rogue" - and would have admitted himself that in the past he was "no saint".
However, he said he had settled down in Poleglass with his partner Eileen.
Mr Johnston was a loving son, father, step-father, fiance, brother and neighbour, the priest added.
Police are hunting for two gunman they believe carried out the murder.