Kayden Fleck river death: Parents speak of 'nightmare' ordeal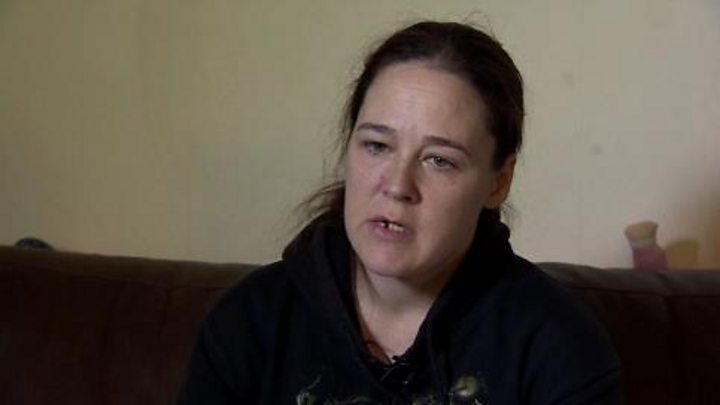 The parents of a five-year-old boy who died after falling into a river in Ballymena have spoken of their "nightmare" since their son's death.
Kayden Fleck was recovered from the Braid River just over a week ago.
Leanne and Darrel Fleck want anyone who saw Kayden and his twin, Jayden, near the river on 10 February to get in touch with police, as they try to piece together Kayden's last movements.
Mr and Mrs Fleck told BBC News NI what happened on the day Kayden died.
The family was in the process of moving house and had returned to their former home in Ballykeel to collect their final belongings.
Mrs Fleck said: "The boys asked if they could go outside to the back yard and I said, 'Yes, but please don't go away'.
"We didn't think that was going to be the last time that we were going to see the two boys as the two musketeers."
Mr Fleck had been taking down a shed in the back yard where the boys were playing.
"I set the drill down and the boys were gone - I turned my back and they were away within seconds. Within minutes we were out to look for them," he said.
"We never thought to look near the river first because they've never been there alone in their lives."
Swept downstream
The couple assumed their sons would be in a play park just yards from their former home.
Mrs Fleck said: "We went straight to the play park but they weren't there. We started searching, wondering where abouts they could be but it was when Jayden then cried for help over at the Ecos Centre - that's whenever we knew something terrible had happened."
Mr Fleck said he found Jayden running from the river, which is around half a mile from the family's former home, his clothes soaked.
The couple said he has since told his parents he tried to help his twin brother out of the water, but could not reach him.
Mr Fleck said he then ran to the river, but Kayden had already been swept downstream.
The child travelled more than six km (four miles) along the river from the point where he entered the water to the point where he was pulled out.
Mrs Fleck said: "Jayden has just told us that Kayden wanted to see the ducks.
"He's saying they were playing and then Kayden wanted to go home but that he wanted to take a path that he thought would take him home more quickly. We can't understand how they got so far.
"Other than that he's been very quiet, he's playing but he's just lost."
Mr and Mrs Fleck have appealed for anyone who saw the two boys to come forward.
"We need answers," she said. "We cannot put the pieces of this puzzle together.
"I just want to know if anyone saw them, what were they doing? Were they with anyone? What directions did they take?
"We just need to know what happened, and how it happened."
'A ray of sunshine'
Paying tribute to their son, Mr and Mrs Fleck said Kayden had been born with a congenital heart defect and chronic lung disease but had never let his tough start in life hold him back.
Kayden spent the first year of his life in hospital, and travelled between Northern Ireland and England having six open heart operations.
"He was our little fighter," said Mrs Fleck. "He was special in every way, not only because he was unwell as a baby but because of his personality.
"I'll always remember Kayden as my wee sunshine.
"That was how he made us feel, he was just a ray of sunshine."
Mr Fleck said "he was just my wee son, a cheeky wee monkey. I just loved him to bits".
Speaking about the impact Kayden's death has had on her family, Mrs Fleck added: "It's been a nightmare, it's been terrible.
"We just feel so empty and so lost. He was the life and soul of the house. He was fun, he was bubbly, when things got bad he made them right.
"He was there to give you a hug and wipe away the pain, but the pain is never going to go away.
"My 14-year-old son doesn't know what to say to me and our daughter, who's four, keeps asking when Kayden is coming back. We've told her the angels had to take him."
The couple were married just three weeks ago.
Mrs Fleck said: "It was the best day of our lives, we were finally going to be the family we'd always wanted to be. It was magical."
Mr and Mrs Fleck are now appealing for greater safety measures to be put in place around rivers close to built up residential areas.
"I don't want another family to go through this. In this estate and other housing estates where there could be rivers, children go out to play and I don't want another child to be Kayden," Mrs Fleck said.
'It's just so hurtful'
The couple said that while they are heartened by the support they have received in the local community, they have been left devastated by comments left on social media about their son's death.
Mrs Fleck said: "People have been commenting, 'Where were the parents, what were they doing?' Those people don't know us, they don't know what kind of family we were.
"The boys never went that far. They never got the chance to go that far but children will be children, they will explore.
"It's just so hurtful that people could think that we didn't care or that we just let them run wherever they wanted to run because that's not the way we are.
"To all those people who are just basically being nasty - please just think before you speak."