'Sickening' arson attack on vulnerable man's house in Banbridge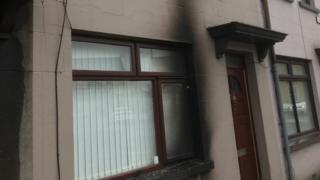 A "vulnerable" young man's home has been targeted in what police have described as a "sickening" arson attack in Banbridge in County Down.
The incident happened at about 05:30 GMT on Sunday at Hillview Terrace in Dromore Street.
Police said the man, who has severe learning difficulties, was woken by the sound of his bedroom window smashing.
A petrol bomb was then thrown at the hole in the broken window.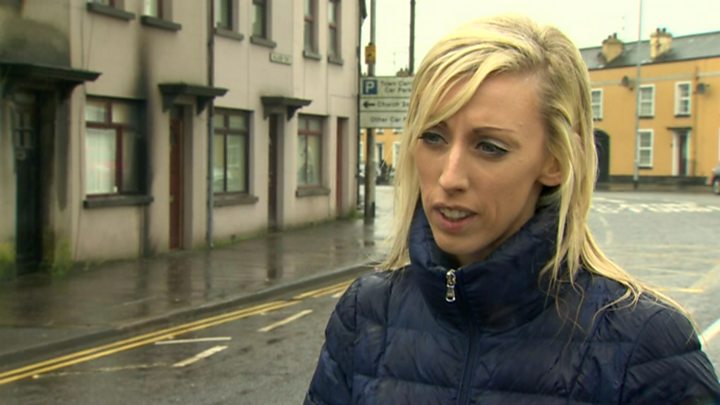 Police said the "disgusting creature" who threw it missed and the outside of the window and window sill was set alight.
'Flames on the road'
They said a taxi driver raised the alarm. The Northern Ireland Fire and Rescue Service also attended the incident.
The taxi driver told BBC News NI he raised the alarm after he noticed the window "was on fire".
"There were flames on the footpath, flames on the road, so I stopped as I knew there were people lived in the houses," he added.
"I rang the fire brigade and just went on about my business."
'Murder scene'
"In a post on social media the PSNI added: "Whoever carried out this horrific attempt on an innocent life should have nowhere to hide.
"If they had been slightly more accurate with their second throw, literally inches to one side, we could be dealing with a murder scene this morning."
DUP MLA Carla Lockhart condemned the incident, and said the victim was well known in the area.
She added: "My thoughts are with the young man who awoke to the shock of this petrol bomb attack on his property.
"The young man was a vulnerable young adult with learning difficulties and someone who is known and loved throughout the area.
"Police have confirmed to me that there is no known reason why this man would be targeted".
Sinn Féin MLA John O'Dowd also condemned the attack and said "the perpetrators could have killed this young man and others".
Police have appealed for information.