County Down: La Mon victims remembered in 40th anniversary service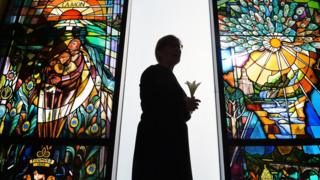 A service to commemorate the 40th anniversary of the La Mon House Hotel bombing has taken place in County Down.
Twelve members of the Irish Collie Club were killed in the IRA firebomb attack on 17 February 1978.
Relatives of those who died placed a lily for each of them in a memorial wreath during the service at Lagan Valley Island in Lisburn.
Saturday's Order of Service read, "La Mon. You say the name, I see the place".
A stained glass memorial window was re-dedicated to the victims after being moved to the new council offices.
Survivors of the atrocity, families, representatives of the emergency services as well as civic and political leaders attended.
DUP leader Arlene Foster, UUP leader Robin Swann, Alliance leader Naomi Long and TUV leader Jim Allister were in attendance.
Chief Constable George Hamilton was also present.
Andrea Nelson was 14 when her parents Paul and Dorothy were murdered in the bomb.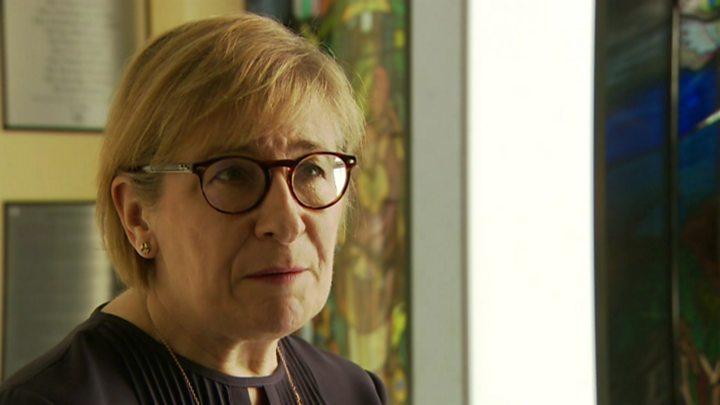 She told BBC News NI that the service had brought back strong memories from the time.
"As the years go on you become more accustomed to saying, "No, I don't have my parents."
"Losing them at such a young age we lost a lot of our childhood.
"Luckily, they were able to pour a lot of love into the first 14 years we had with them and we have kept that with us for 40 years," she said.
She added: "We are honoured and grateful people are still remembering.
"Every single life is precious. We are taught that from a young age.
"Losing someone in such tragic circumstances so needlessly and at the hands of evil men, is traumatising.
"It broke our hearts as young girls. It's really important to take the time to remember the loss we have all borne.
"The service was very moving and they talked about how the impact had reached out into the community.
"It affected the people who were involved in the fire service and hospitals, those were were hurt and even those who were not, were all really badly affected."
In 2014 the then Secretary of State Theresa Villiers responded to families who wanted a review of the police investigation into the bombing.
Ms Villiers sent letters to relatives of those killed in the atrocity.
She said she did not believe reviews would uncover evidence not already in the public domain and she knew this was not what the families wanted to hear.
Speaking about La Mon she said: "I understand that this is not the decision they were hoping for, but I do not believe that an independent review would reveal new evidence or reach a different conclusion from the investigations that have already taken place."