Edward Bunting inspires traditional music remix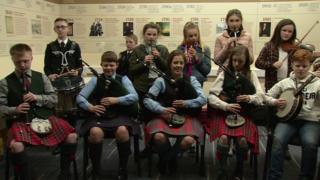 He was a musical pioneer, a Protestant who made it his life's work to promote and preserve Irish traditional music.
Now, Edward Bunting is being remembered by some ground-breaking young Irish and Ulster-Scots musicians.
The CEOL band is made up of 20 teenagers from Comhaltas Ceoltóirí Éireann branches and members of the Royal Scottish Pipe Band Association.
They are playing at the first "Remembering Bunting" festival in Belfast on Saturday.
Edward Bunting was born in County Armagh in 1773, but spent most of his life living in the Belfast home of noted feminist and philanthropist Mary Ann McCracken.
From there he travelled throughout Ireland, collecting and transcribing many Irish traditional tunes.
Sean Ó Roideain, from Comhaltas Ceoltóirí Éireann, said a lot of familiar music would have disappeared without Bunting's work.
"He was very much a cross-community project in his own right," he said.
"He was Church of Ireland, his mother was from a Roman Catholic background and he lived for 35 years in the McCracken house, who were a Presbyterian family.
"He went out and collected tunes from older musicians right across Ulster and Connacht."
Three volumes of Bunting's work were published and his manuscript collection is preserved at Queen's University in Belfast.
The CEOL band was formed to celebrate the wider shared heritage of traditional music here.
Samantha Coburn is a member, as well as playing with the Ulster-Scots Agency juvenile pipe band.
"Pipe band music is set and has been passed down through the years," she said.
"But I don't know how to describe this stuff, I get so into it as it's amazing music.
'Crossed over'
"It's given me skills as I wouldn't normally play small pipes that much and I've learnt the whistle.
"It's triggered my career path as well as I want to go to study traditional music in university."
Meanwhile Niall Rice, who plays the bodhrán, said being with the band had expanded his repertoire.
"We play hornpipes, reels, jigs, airs, lots of different stuff like that.
"We play tunes from Comhaltas, tunes from the pipe band and tunes together."
Sean Ó Roideain said the diverse membership of the CEOL band reflected the nature of traditional music.
"There are a lot of tunes which have crossed over between the Catholic and Protestant communities, and there are a lot of English and Scottish tunes in Irish traditional music," he said.
"There are also a lot of Irish tunes in Scottish music.
"Musicians like a good tune and a good song, so tunes were always swapped.
"It's a bit of a myth to think of two separately sealed communities as there has always been coming together."
The CEOL band perform in St George's Church in Belfast on Saturday evening and will also perform at the Ulster Fleadh in Castlewellan in July.