NIEA seals first prosperity agreement with social enterprise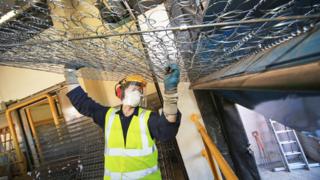 A new deal which will divert nearly 7,000 tonnes of waste carpets from landfill has been secured by the Northern Ireland Environment Agency (NIEA) and Ulster Supported Employment and Learning (USEL).
USEL was established in 1962 with the aim of providing supported paid employment for people with disabilities.
This is the seventh prosperity agreement NIEA has now signed, but it is the first with a social enterprise.
David Small, the head of NIEA, said the deal with USEL, which also covers old mattresses and furniture, would result in "an increase in the amount of material they recycle".
"This agreement is great news for both the environment and the local economy," he said.
"USEL plans to work with the housing associations and recycle their carpets, diverting nearly 7,000 tonnes of waste carpets from landfill - enough carpet to cover up to 750 football pitches.
"Each agreement embodies a commitment to a sustainable future for the both the business and our environment."
Last year, BBC News NI reported that as many as 800 mattresses a week, from council recycling centres and bed shops, were being processed at a USEL warehouse off the Shankill Road in Belfast.
The mattresses are stripped down to their component parts, with polyester sent off to make socks and fleeces.
Foam is sent to make carpet underlay and a felt layer over the springs used in equestrian centre flooring, as well as for acoustic dampening in cars.
'Great news for the environment and economy'
USEL chief executive Bill Atkinson said he was delighted to be signing the prosperity agreement.
He added that the project had "ambitious environmental and circular economy targets" and the new prosperity agreement with NIEA would help it to deliver them.
"We believe this is a further step in us leading the way in promoting environmentally responsible business growth whilst also providing employment and training opportunities for individuals with disabilities and/or health related conditions," he said.
USEL recently claimed the Green Apple World Environmental Award for environmental best practice at a ceremony in Dubai.
Mr Atkinson said that it was "a special honour" to beat off competition from more than 500 international organisations.
"As an organisation we are really proud and I think for us the key in our success is our people," he told BBC Radio Ulster's Evening Extra.
"We have an exceptional team at USEL and given the fact that we are the largest provider of disability employment support in Northern Ireland, it is great recognition."