Woman 'was fixated with Jackson,' court hears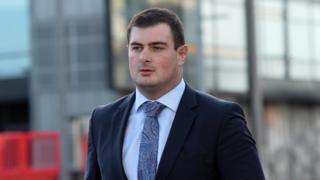 The woman who claims she was raped by Ulster rugby player Paddy Jackson was "fixated" with him, a court has heard.
On day 15 of the rape trial, a statement by Mr Jackson's friend, Rory Harrison, was read out in court.
He said on the night of the alleged attack she "appeared to be staring at and fixated with Paddy" and she "did not appear to take her eyes off Paddy".
Mr Jackson and fellow player Stuart Olding deny raping the same woman in June 2016.
The woman went home after the alleged attack in a taxi with Mr Harrison, which he arranged.
Two days later, the police went to his house in Belfast and interviewed him.
In his statement, he outlined what he says he saw at Mr Jackson's house after he and a group of people went back there after a nightclub on the night in question.
Mr Harrison said that after around an hour, Mr Jackson went upstairs to bed alone, and a short time later the alleged victim went upstairs.
He said when he saw her later she was "upset and quiet" and he shared a taxi home with her.
'Withholding information'
He said the woman was "crying into herself" during the journey.
Mr Harrison added that the following day he met his friends at a cafe in south Belfast, Soul Food.
He said they did not discuss the previous night.
What they talked about, he said, was an Irish rugby tour to South Africa from which Mr Jackson had recently returned.
In the early stages of the investigation, Mr Harrison, 25, of Manse Road, Belfast, was treated by the police as a witness not a suspect.
That later changed and he was subsequently charged with perverting the course of justice and withholding information. He denies the charge.
Within his police statement, Mr Harrison outlined what happened before going to Mr Jackson's house on the night in question.
He said that he and his friends had been at Cutters Wharf bar before going to Ollie's nightclub in the centre of Belfast.
He said they went back to Mr Jackson's house because he was the "only one with his own place".
Mr Jackson, 26, from Belfast's Oakleigh Park, is charged with one count of rape and one count of sexual assault. He denies the charges.
Mr Olding, 24, from Ardenlee Street, Belfast, is also charged with rape. He too denies the charge.
Another man has also been charged in connection with the case.
Blane McIlroy, 26, of Royal Lodge Road, Belfast, is charged with one count of exposure. He denies the charge.
The judge in the trial warned the jury on Friday to "be on your guard" and not to talk to friends and family about the case.
At the end of the third week of the trial, Judge Patricia Smyth briefly addressed the 12-person jury.
Turning to the nine men and three women, she said: "Be on your guard... you are not permitted to discuss anything to do with this trial... I cannot emphasise that enough."
The trial will resume next week.