Man dead after 'shotgun shooting' in west Belfast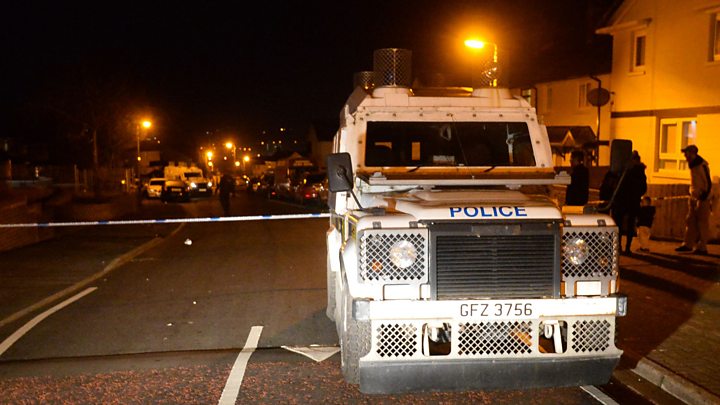 A man, in his late 20s, has died after he was shot in west Belfast.
Raymond Johnston was shot in the chest with a shotgun shortly before 20:00 GMT on Tuesday at Glenbawn Avenue in Poleglass.
The police said the attack was "particularly chilling" as it took place in front of Mr Johnston's partner and 11-year-old child.
They said that a "definitive motive for the shooting has not been established".
However, they added that they are "exploring a number of possible lines of enquiry".
Det Ch Insp Geoff Boyce said: "I am particularly keen to hear from anyone who may have witnessed a male wearing a blue coat with fur around the hood make off from the scene."
The police said this man got into "a black car with tinted windows which drove away".
A neighbour, who did not want to be identified but was first on the scene after the attack, told BBC News NI that Mr Johnston had been making pancakes when the attack happened.
He said it was "sickening".
"We heard shots from the house and we live down the street, so we ran up to the house and it was just a bloodbath," he said.
"There were people trying to do mouth to mouth, but to no avail.
"Why this was done is baffling to the whole community," he added.
Sinn Féin councillor Stephen Magennis told BBC Good Morning Ulster people in the area were "stunned and outraged" by the "brutal killing".
Mr Magennis said the family "had no idea as to why anyone would want to shoot" Mr Johnston.
"I have spoken to some of the victim's family and friends and they are obviously devastated and in a state of shock," he added.
"There can be absolutely no justification for this murder which was carried out in the most brutal fashion."
He added that Mr Johnston's daughter, who witnessed the attack, was "in a bit of a state".
"It was traumatic, and no doubt will be with them for a long time to come."
Mr Magennis said it was the second time a man had been shot dead in Poleglass in over a year, and those carrying out the attacks were bringing "nothing but death and destruction" to the area.
'Heart wrenching'
Michael George, a community worker in the area, said Mr Johnston was "a bubbly and friendly individual" who had had "his life snuffed out".
"It really was heart wrenching for the family and the community.
"I would say to the people who did this, take your boot off our backs and let us move on.
"We don't want to be dragged back into the past."
Tim Attwood, a Social Democratic and Labour Party (SDLP) councillor, said the family and residents had been left "paralysed with fear".
"Those who think they can take the lives of others into their own hands are wrong," he added.