Kayden Fleck river death: 'He just melted your heart'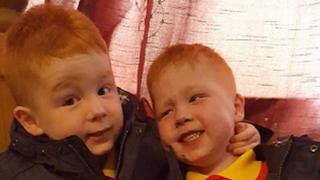 The parents of a five-year-old boy who died after falling into the river Braid in Ballymena, County Antrim, have thanked everyone who attempted to save his life.
Darrel and Leanne Fleck described Kayden as their "happy-go-lucky" son who "just melted your heart".
Kayden Fleck was recovered from the Braid River on Saturday afternoon in a major multi-agency rescue operation.
He was airlifted to hospital in Belfast, where he later died.
In a statement, Kayden's parents said he was "your average wee boy" and along with his twin brother Jayden they were "the two musketeers".
Kayden was a pupil at Harryville Primary School in Ballymena and the school paid tribute to him on social media.
In a message posted on its Facebook account, the school said: "Please remember the McGowan family in your thoughts and prayers at this very sad time as they mourn the loss of wee Kayden.
"The whole school community is remembering you at this sad time."
The multi-agency search operation began near the Ecos Centre, a nature park off the Broughshane Road, at about 13:00 GMT on Saturday.
It involved police, firefighters, the Northern Ireland Ambulance Service (NIAS) and Community Rescue Service volunteers.
An NIAS spokesman said they despatched the air ambulance, an A&E crew and a doctor to the scene.
He confirmed that child was recovered from the water and was flown by air ambulance to the Royal Belfast Hospital for Sick Children.
The child travelled more than 6 km (four miles) along the river from the point where he entered the water to the point where he was pulled out.
Sean McCarry, regional commander of the Community Rescue Service, said the boy "accidently fell into the River Braid near the Ecos Centre at Ballymena and was quickly swept downstream".
"Despite valiant efforts by rescuers form PSNI, the Community Rescue Service and NIFRS, the child was carried a considerable distance downstream in the fast flowing river," he said.
PSNI Insp Shaf Ali said: "I would like to thank everyone involved in the search effort and extend my sincerest condolences to the family at this time."