Who is Fred Holroyd?
By Vincent Kearney
BBC News NI Home Affairs Correspondent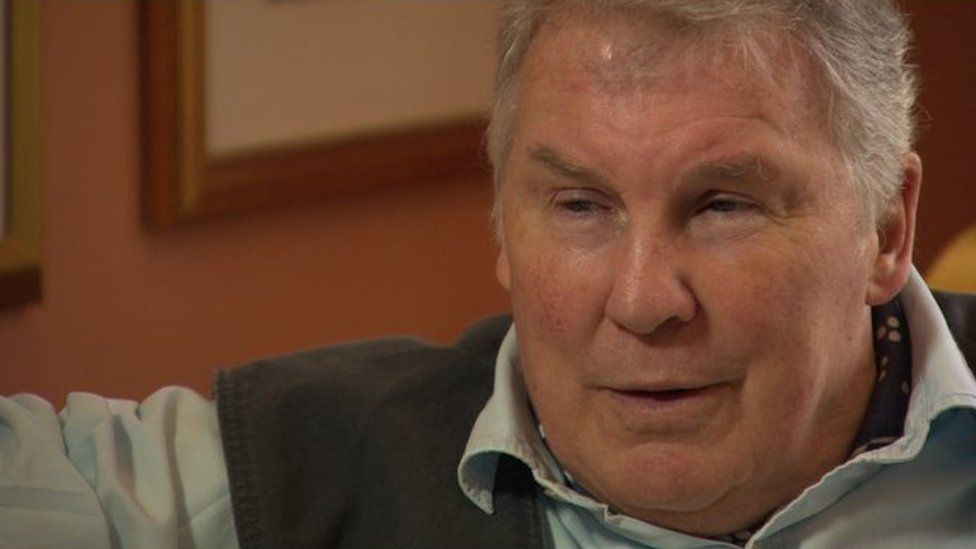 Fred Holroyd is a former Army captain and intelligence officer who served in Northern Ireland from January 1974 until May 1975.
Based in County Armagh, he worked for the Army's Special Military Intelligence Unit and with the security service MI6.
His role included recruiting and handling informers within republican and loyalist paramilitary groups and liaising between the Army and Royal Ulster Constabulary (RUC) Special Branch.
He resigned from the Army in September 1976, 16 months after being treated for a psychiatric condition.
Mr Holroyd has insisted the diagnosis was part of a conspiracy to discredit him because of claims he made about illegal activities by some Army units.
These included allegations of collusion with loyalist paramilitaries, and that some soldiers were operating a shoot-to-kill policy.
He was admitted to the military wing of Musgrave Park Hospital in south Belfast in May 1975 after being told his wife at the time had made serious allegations about his behaviour.
Three days later he was taken to a psychiatric unit at in the Royal Victoria Hospital Netley, an Army hospital near Southampton.
He has claimed on many occasions that he was falsely imprisoned and forced to leave as the result of a "malicious conspiracy" between the Army and security service MI5.
The former intelligence officer says he was targeted because of the allegations he made about some Army units.
The police in Northern Ireland and the Republic of Ireland have investigated the allegations Fred Holroyd made about collusion and a shoot-to-kill policy, but they were not substantiated and no action has ever been taken against a serving or former member of the Army.
They included claims that:
Members of the British Army colluded with loyalist paramilitaries who killed 33 people in bomb attacks in Dublin and Monaghan in May 1974.
British Army units were conducting illegal cross-border operations, including assassinations.
SAS-trained Captain Robert Nairac, who was abducted and murdered by the IRA in May 1977, assassinated senior IRA member John Francis Green in County Monaghan in January 1975.
In 1987, Fred Holroyd gave evidence to an inquiry by an Irish judge into allegations of British security services collusion with loyalists in attacks in the Republic of Ireland.
In a report presented to the Irish government in December 2003, Mr Justice Henry Barron said there were grounds for suspecting those who bombed Dublin and Monaghan may have had help from members of the British security forces, but there was no conclusive proof.
The judge noted that the allegations by Fred Holroyd had been the subject of a number of reports by the RUC and Garda (Irish police).
He said the RUC had discounted the allegations while the gardaí "regard him as a liar and not worth further investigation".
But he added that "the inquiry considers this portrayal to be unfair".
Fred Holroyd insists that his allegations are true, and that a copy of his medical records obtained from the Ministry of Defence in 2016 supports his claim that he was wrongly diagnosed with a psychiatric condition to discredit him.