Denis Bradley: Troubles 'amnesty' could be introduced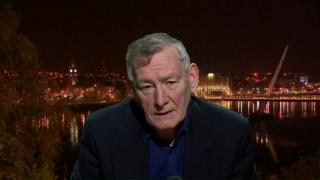 One of the authors of a report into dealing with the legacy of the Troubles has said he believes the government is considering introducing a de-facto amnesty for Troubles-related deaths.
Denis Bradley said the move could be brought about through the introduction of a statute of limitations.
He said this would likely cover killings by security forces and terror groups in order to be "constitutional".
Mr Bradley made the comments on BBC NI's The View.
In 2009, Denis Bradley worked with the former Church of Ireland Primate, Dr Robin Eames, to produce a report into dealing with legacy issues.
On Thursday evening, Mr Bradley and Lord Eames took part in their first major joint interview since the publication of their report.
'Will have to do it for everybody'
Mr Bradley told The View that his "reading of the situation" was that the "British government are thinking of introducing a statute of limitations".
"Now, that has great difficulties with it but it also appeared in our report, to a degree," he said.
"We said this - 'the work should be done in five years, and then it should stop' - and that's where the thing called the amnesty should come into being."
He added: "I think that they won't be able to just do it for their own soldiers - they will have to do it for everybody to make it constitutional and to make it go through the courts."
Mr Bradley said he thought a number of things would happen if this occurred.
"Internationally, it will be seen as breaking international rules and international law - but the British government will probably face that down," he said.
"The political parties here will jump up and down, but I think behind the scenes they will be very relieved, and I think that will go for particularly Sinn Féin and the DUP."
'Victims would feel betrayed'
However, Mr Bradley said, if the move was implemented, it would leave victims "feeling betrayed".
"I think that the victims will also have to face something perhaps if they aren't going to get justice and truth - which I think is getting less and less likely as the years go past," he said.
"I think, as it dominates and darkens our lives - all of our lives - then I think the victims need to also recognise that there are a lot of other ways of dealing with the past.
"And they may have to settle for dealing with things like pensions and welfare, and good health facilities.
"I think that has to now become part of the conversation."
Mr Bradley added, that while he would not necessarily welcome an amnesty, he believes "one of the things that is important, is to be truthful with people".
Lord Eames said he "largely agreed" with Mr Bradley's comments, adding that not dealing with legacy is impacting the next generation.
"People cannot come to terms with the fact that a new generation, which is going to inherit the mistakes that were made in our generation, is a generation which is reading about these things in history books," he said.
"They didn't come through the Troubles or the trauma, and that generation is inheriting what we are not doing."