Sue Gray, NI's 'enigmatic' senior civil servant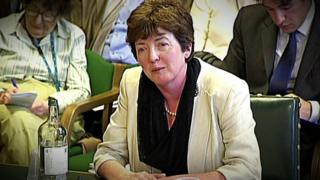 From last orders, to giving orders, its been quite a journey for the woman described as "deputy God" and "the most powerful civil servant you've never heard of".
But Adrian Fegan, who once drank pints served by her at his local outside Newry, said she was always "the most powerful woman" to customers, because "she was the landlady".
Sue Gray is an enigma.
As director general of the Propriety and Ethics Team in the Cabinet, she recently ran the investigation which lead to the resignation of the Prime Minister's deputy, Damien Green.
She has a pivotal role in cabinet reshuffles, vetting politicians' memoirs and she never leaves a trail.
Former landlady
So why is she leaving this crucial role to become permanent secretary at the Department of Finance in Stormont.?
Well, for a start it could be down to personal reasons.
She did indeed run the Cove Bar outside Newry in the 1980s, along with her husband Bill.
He is a well known country and western singer from the Ards Peninsula in County Down.
But that is not the number one theory.
The prime suspect is the idea that Westminster is gearing up for direct rule and wants one of its own in place to make sure the Northern Ireland Civil service is up to the task.
Under the stewardship of David Sterling, the civil service has recently faced criticism over its handling of the renewable heat incentive (RHI) scheme, and its reluctance to intervene to make more decisions in the absence of a functioning Executive at Stormont.
Power-sharing collapsed in January 2017.
'To sort the problems'
One politician who thinks Sue Gray is coming in to shake things up is Ulster Unionist MLA Steve Aiken.
He told BBC NI's The View programme: "I think and, I think, many other people would think she's coming across to sort out the Northern Ireland civil service because lets talk about the reality here - we've got a political crisis but we've also got a crisis in the government machine."
Mr Aiken added: "Every day we hear more and more information coming from the RHI inquiry; we hear what's going on with our energy market; what's going on with virtually everything from rating to everything else.
"There's something fundamentally wrong with what's happening in Northern Ireland at the moment and I have no doubt that she's been brought over to help sort the problems out."
However, retired civil servant Alan Whysall said this was "far fetched".
"There are stories that she's been parachuted in or whatever," he said. "I don't believe those.
"I don't see how those could actually have happened.
"There is not the legal power, there is not the means of doing it.
"I think she's coming to do a very interesting and a very challenging - a very worthwhile - job."
'Littler department'
There is another theory held by BBC Newsnight's Policy Editor, Chris Cook, who has been fascinated by the rise of Sue Gray for many years.
He told The View: "I think the likeliest reason why Sue Gray has taken this job is nothing to do with the state of Northern Irish politics.
"It's really nothing to do with the fact that she has a slightly odd CV.
"She's become extremely senior within the civil service without getting a lot of experience or running very large teams or taking on big policy areas.
"So it's very difficult for her to go from her current, very senior, job to the next layer which is becoming the permanent secretary at the department.
"Because her CV is a bit threadbare on that front, and going to a 'littler' department - which is what the Northern Irish departments are - is a way for her to get to the next rank despite the problems on the CV which would stop her being able to take over the Department of Work and Pensions or the Department of Health."
'A good way with her'
As for Sue Gray, pub landlady Adrian Fegan, who runs a motorcycle dealership, remembers her fondly.
He said: "A good lady... a top class landlady... ran a good show and basically a good mixed crowd in it too - both sides of the community drank in the pub.
"She had a good way with her you know, a very good way with her actually.
"The time we knew her, we knew she worked, probably in the civil service, not a government job but a civil service job, and sure a civil service job could be somebody working in the dole office or whatever."
What Sue Gray serves up next, should be very interesting.