Kilkeel grammar and high schools to merge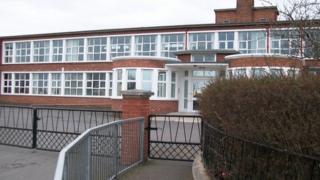 A plan to effectively merge a grammar and a high school has been approved by the permanent secretary at the Department of Education (DE).
St Louis' Grammar in Kilkeel, Count Down, will retain a form of academic selection, but only for some pupils.
In future, it will select 40% of its pupils through the transfer test and its pupil numbers will rise from 570 to 860 from 1 September 2018.
St Columban's College in Kilkeel will close from that date as a result.
Many pupils who would have attended St Columban's, which originally opened in 1958, will transfer to St Louis', as 60% of its pupils will now be admitted on the basis of where they live.
There have been proposals to combine the two schools since 2012, but the permanent secretary Derek Baker has finally signed off on the plan.
Falling numbers
St Columban's pupil numbers have been falling in recent years to 148 pupils in 2016/17.
The school also has a significant deficit of over £1m.
St Louis' had 564 pupils in 2016/17, including 148 in sixth form.
In approving the plan to close St Columban's and expand St Louis', the DE permanent secretary Derek Baker said that the grammar school would adopt a "bilateral approach" to admit pupils.
"These are significant issues, involving a proposal to close a post-primary school and significantly increase the admissions and enrolment number in a grammar school," he said.
"Closing any school is a difficult and sensitive decision.
"However, on balance I am content to approve the recommendations."
Analysis
This kind of 'bilateral' school is not unknown in Northern Ireland, but it is unusual.
Both Lagan College in Belfast and Strangford College in County Down, for instance, are among a few schools who select 35% of their pupils using transfer tests and the rest using other criteria.
They describe it as admitting some pupils to a "grammar stream".
In the Catholic sector, a number of grammars have abandoned academic selection completely at 11 over the past few years.
However, most grammars - whether Catholic or controlled - continue to use the AQE or GL Assessment tests to select all their pupils.
Academic selection remains controversial in Northern Ireland.
So there will be a lot of interest in St Louis Grammar's decision to change its admissions procedure to use transfer tests to select only part of its pupil intake.
However, it is in reaction to specific local circumstances so it is unlikely to lead to a flood of other schools making the same move soon.