Strong growth for NI tourism sector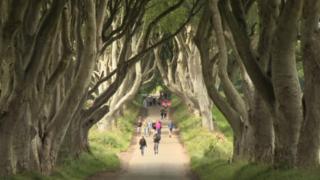 The Northern Ireland tourism sector grew strongly during the summer months, the latest official figures suggest.
The figures show that in the 12 months to September 2017 the number of trips was up by 11% compared to the same period in 2016.
Total expenditure by visitors rose by 18% to £951m.
Visits from the Republic of Ireland grew particularly strongly, with the rise in the value of the euro likely to be a factor.
Overnight trips from the Republic grew at an annual rate of 33% to 524,000.
Expenditure by Republic of Ireland visitors surged by 54% to £88m.
Great Britain remains the largest single market, although it showed only modest growth.
Tourism NI's latest Industry Barometer indicates continued positive performance, with hotels particularly optimistic about business prospects in 2018.