Newcastle husband and wife accused of sex abuse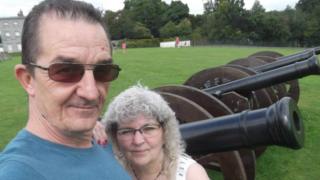 A husband and wife from County Down have appeared in court charged with serious historical child abuse offences.
Gary Talbot, 58, from Newcastle is accused of two counts of raping a child under the age of five.
His wife, 57-year-old Heather Talbot, is accused of aiding and abetting rape.
They both face further charges of gross indecency with a child, aiding and abetting gross indecency, and inciting gross indecency.
In addition, they are accused of making, possessing and distributing indecent images of children online.
The abuse allegedly took place at their home, about 15 years ago.
Dark web
A detective constable told the court in Downpatrick that she could connect the pair to the charges.
She told the court the victim has not yet been identified by police.
The court also heard the two defendants had allegedly been communicating with "like-minded individuals" on the dark web.
No bail application was made for Gary Talbot.
The police opposed bail for Heather Talbot, and while District Judge Eamon King did grant bail, the PPS lodged an appeal which will be heard in the High Court in Belfast on Friday morning.
They were both remanded into custody to appear again in court on 1 March.