Brexit concerns after House of Lords committee's NI visit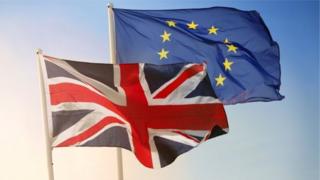 The chair of a House of Lords EU select committee has said its Northern Ireland visit reinforced concerns about the possible adverse impact of Brexit.
Lord Jay said the potential problems far outweighed the opportunities for people living in Northern Ireland.
He said the committee was "worried and concerned".
Members heard from civic, business and political leaders on both sides of the border during their visit.
"We have always felt that the implications for Northern Ireland and the Republic of Ireland have been underestimated during the referendum campaign and afterwards," he said.
"This visit has reinforced our concerns that there could be adverse implications for both sides of the border and that is not a good place to be."
Warrant question
The committee has been examining the potential impact of Brexit on UK-Irish relations.
Members heard from both the DUP and Sinn Féin during a day of evidence gathering at Stormont.
Chief Constable George Hamilton also outlined his concerns at the lack of action to deal with the change in security arrangements after Brexit.
He highlighted the fact that so far there had been no discussion about replacing the European Arrest Warrant, which allows the Police Service of Northern Ireland to extradite suspects from other EU countries.
The committee visited a number of border business in the north west and also spent a day in Dublin hearing from interested groups.
Lord Jay said: "We did speak to some people who could see opportunities arising from Brexit, but overall the impression we got is that the opportunities are outweighed by the disadvantages."
The committee is due to publish its report before April.